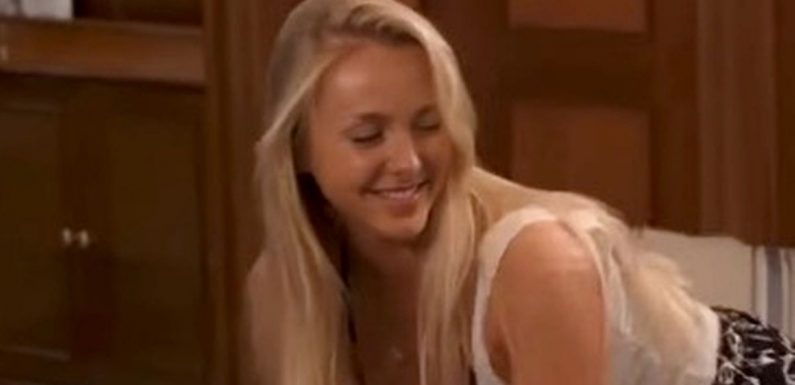 Below Deck star Courtney Veale has lifted the lid on her twerking antics which nearly left her without a job.
The reality TV personality spoke to Daily Star about her life on the boat and revealed that her sexy dancing almost landed her in trouble.
Courtney said: "Yeah, basically. I have a few drinks and I can't not dance. Even if there's no music on! As soon as I start dancing, the twerking happens."
READ MORE: Nicole Scherzinger shows off hourglass figure in cut-out dress exposing her hips
"It all just happens, one after another really. Every boat I've ever been on, I've been known for twerking. I nearly got fired off one because I kept twerking on a night out and the Chief Stew said it was a distraction!"
The star then revealed that the twerking isn't a one time thing – she also does it while on shift.
"I mean, I do it at work, but in that case I wasn't! I nearly got fired, it was so funny. I've just always liked twerking."
"Back when I was 16, I was still really skinny at that point, I didn't think I could do it because it didn't look good. After 18, when puberty hit and I gained a bit of weight, I was like: 'Wow, I can actually do it!'"
"Living the dream! Most people probably think I can't twerk but that's fine."
Courtney's been twerking for most of her life and figures she won't be quitting any time soon.
Veale joked: "I was going to say, I hope one day I grow out of it but honestly, I don't. It's so much fun."
Although she spend a lot of time on the boats, she still loves to party while on dry land and knows how to bring the vibes.
Courtney said: "When I'm away on boats, we're either working or partying. I've been home, what, three days? And I've been out the last two nights."
"My body needs a rest!"
However, Courtney seems to prefer life on the open seas and lifted the lid on what life is like on board: "Every boat I go on is mental, it's just crazy the whole time."
"We went out, we got an AirBnb in Split (Croatia) for the weekend, it was amazing. That was a pretty wild weekend."
"Nothing too crazy happened, we just partied the whole time!"
READ MORE:
Below Deck Natalya strips to bra as wind blows up skirt for Playboy photoshoot

Below Deck Camille strips completely topless and bends over for saucy OnlyFans clip

Baywatch Carmen Electra strips down to teeny bikini to show off hourglass curves
For more of the latest showbiz news from Daily Star, make sure you sign up to one of our newsletters here.
Source: Read Full Article