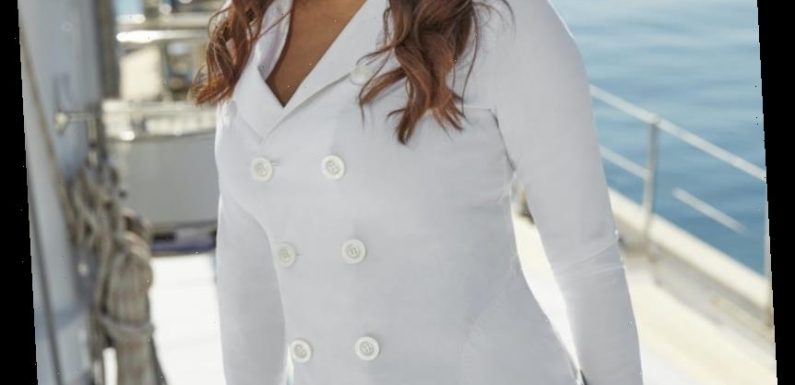 If Below Deck Sailing Yacht charter guests Barrie and Tony Drewitt-Barlow seem a little high maintenance, it's because they truly are.
During the next episode's preview, the family wonders if they should have brought their own chef on charter when the food doesn't seem to live up to their standards.
Were they serious when they made the remark? The family recently jetted off to Cuba and Tony revealed their chef traveled with them. "We had the family's private chef with us for the few days we were there, so we eat like we usually do," Tony told The Sun. "Barrie and Saffron are super fussy about what they eat and our chef has come to know what they like so it's easy to take her with us."  
Is Chef Natasha up to the challenge?
Dinner service goes south on day one when the party of nine has specific, individual orders for chef Natasha De Bourg to tackle. While the food ends up being delicious, the individual orders take time to cook, especially with the various steak temperatures. Unfortunately, Barrie is last to receive his food – clearly not the ideal guest to be served last.
Stew Dani Soares ends up being on the receiving end of a message from Barrie. "We can't eat like this," he told her. "At all. We have to have the food altogether. So we can all eat at the same time. Because I don't want to see my daughter, she's finished her food. Then I'm waiting for 20 minutes. And my husband is waiting for 20 minutes. And my boyfriend and his boyfriend are finished as well."
"I want to eat at the same time," he reiterated. Soares agreed and brought the message back to De Bourg. While chief stew Daisy Kelliher understood how Barrie's complaints were valid, finding a way for the entire family to have individually plated meals delivered while hot proved to be a challenge for the chef.
Barrie and Tony Drewitt-Barlow live a pretty lavish lifestyle
"The only criticism apart from timing is it's cold," Tony observed during dinner. The previews show the food situation doesn't get much better during breakfast. That's when Barrie said, "I told you we should have brought our own chef."
Traveling with the family chef seems to be just a drop in the bucket for this family. They can afford luxury all the way. "The jet was quite reasonable actually, I've been using them for a few years now so I get a great deal, this trip was $95,000, then the resort was $45,000 after all the spa treatments the kids had," Tony said about the family trip by private jet to Cuba.
Christmas was also a lavish occasion. Daughter Saffron shared that Christmas dinner was prepared by a team of professional chefs, supported by their cook, according to Daily Mail. Plus Safforn's fathers end up dropping close to $240,000 on gifts over the holidays. "We know how lucky we are, especially when so many are struggling financially due to the pandemic," she said.
Source: Read Full Article