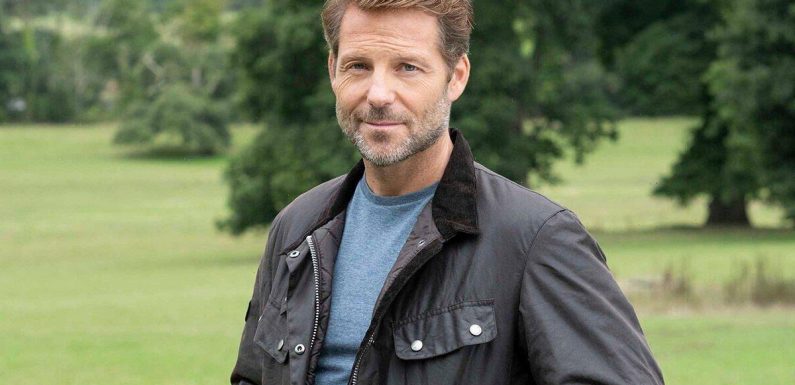 Beyond Paradise: Kris Marshall stars in episode two teaser
We use your sign-up to provide content in ways you've consented to and to improve our understanding of you. This may include adverts from us and 3rd parties based on our understanding. You can unsubscribe at any time. More info
Beyond Paradise's next episode will see Humphrey Goodman (played by Kris Marshall) and Archie Hughes (Jamie Bamber) attempt to get along. Archie returned out of the blue to help Martha Lloyd (Sally Bretton) open her restaurant in the Death in Paradise spin-off. The show's bosses spoke exclusively to Express.co.uk and other press about how they nearly missed out on securing the Archie star.
Beyond Paradise fans are concerned for Humphrey after Martha's ex walked back into her life.
The pair seemed to be getting on well with Archie realising how much he missed his former fianceé.
Humphrey was struggling to come to terms with the new partnership and in the upcoming episode, he appears to make his feelings known.
As the pair attempt to settle their differences and get along, will it lead to a love triangle?
Tim Key, who worked as an executive producer on the show, said they fought tooth and nail to get Bamber on board.
He said: "We have got Jamie Bamber, his schedule was very complicated and we nearly didn't get him.
"He really wanted to do it but he was filming something else and it just nearly didn't happen.
"We kind of went to the wire to make it work and I'm really really glad that we did.
"Because the stuff he does with both Sally and also with Kris is really cool and fun and sweet and funny.
"And yeah, I'm so happy with all of our guest cast, they are amazing."
Praising his colleague Tony Jordan, he added: "What Tony does is he will write a character who is in one scene who almost ends up stealing the episode.
"There's a guy in episode six who, every time I watch him, really makes me laugh.
"The show is packed full of these amazing treats."
Tim opened up on the guests he was most excited to get on board, one of which was the late Ruth Madoc.
She appeared in the second episode and it marked her final TV project before her death.
Don't miss…
The Apprentice stars details what really happened in taxi drives home [INTERVIEW]
Death in Paradise star addresses Beyond Paradise cross-over[INSIGHT]
Beyond Paradise viewers 'heartbroken' at tribute to Ruth Madoc [DISCUSSION]
Tim added: "I was excited by all of them, they are an amazing guest cast.
"Some known, some less known. Ruth Madoc was genuinely…the minute her name was mentioned I was like, 'I really want Ruth Madoc in the show'.
"Because I grew up watching Hi-De-Hi! and I just thought she's an icon.
"So when she agreed I was over the moon. On set, she was a joy and the crew loved her, and never in a million years did we think it would be her last TV performance.
"So I would have said the same answer had she not passed away, honestly she was such a joy to get."
Other guest stars in the upcoming episode include Rufus Jones and Pooky Quesnel.
Jones began his career as one-fifth of the comedy group Dutch Elm Conservatoire.
He went on to star in 101 Dalmatian Street, Hunderby and Edge of Heaven.
Quesnel is known for her roles in Ralph & Katie, The A Word, Thief Takers and Family Affairs.
Beyond Paradise airs on BBC One on Fridays at 8pm.
Source: Read Full Article