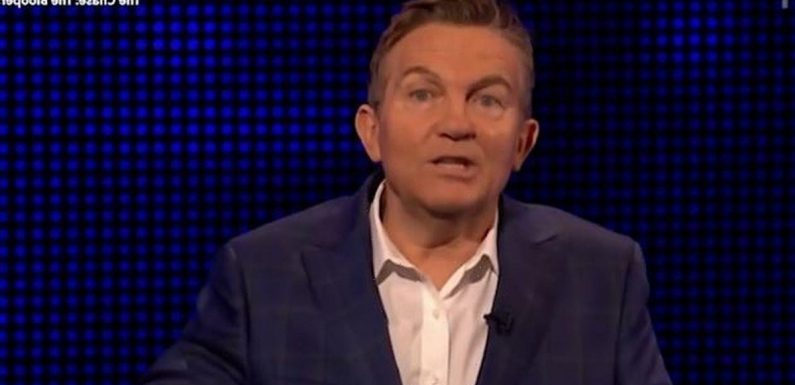 The Chase's Bradley Walsh was left disappointed when a contestant he'd called his new "best friend" got his marching orders.
Hopeful Colin, from Dufftown in Scotland, was on the ITV game show this week and sparked Bradley's interest when he shared that he worked in a whisky distillery.
The presenter lapped up the details of Colin's job, and according to the Liverpool Echo joked that he was now "my best friend in the whole world".
READ MORE: The Chase fans swoon over stunning contestant who sailed through to final
"The man we all love to love," he gushed.
Bradders also revealed that he had high hopes for Colin in the competition, predicting that the whisky worker was going all the way through to the final.
He also reckoned that he was "going to win millions despite what we put on the table".
Sadly, the TV star's prediction wasn't accurate, as things didn't go as planned for Colin.
After a decent start he came a cropper when he went up against Mark "The Beast" Labbett.
Viewers were gripped as the pair went against each other and the contestant was hanging in there until he slipped up and made a real blunder – accidentally pressing the wrong button.
Colin looked dismayed as he realised that he hadn't made it to the final and that it was time to exit the competition, and Bradley looked miffed too.
"Sadly not a full house as Colin is gone," he said, looking disappointed.
Mark offered some kind words after Colin's gaffe, saying he knew getting the boot over a slip like hitting the wrong button was tough.
For more of the latest showbiz news from Daily Star, make sure you sign up to one of our newsletters here.
It was "the worst feeling in the world", he told Colin.
READ MORE:
The Chase in chaos as contestant forced to elbow co-star as fans in hysterics

The Chase viewers distracted as two 'fit' contestants try their luck on ITV quiz show

The Chase fans all say the same thing as they spot Mark Labbett's 'smug' habit
Source: Read Full Article