Since the first season of Chicago Med, fans have been rooting for the romance of Dr. Natalie Manning (Torrey DeVitto) and Dr. Will Halstead (Nick Gehlfuss). The two certainly have had a wild ride and were poised to get married in Season 4. Now in Season 6, while still working together in the ER, the two are miles away from the altar.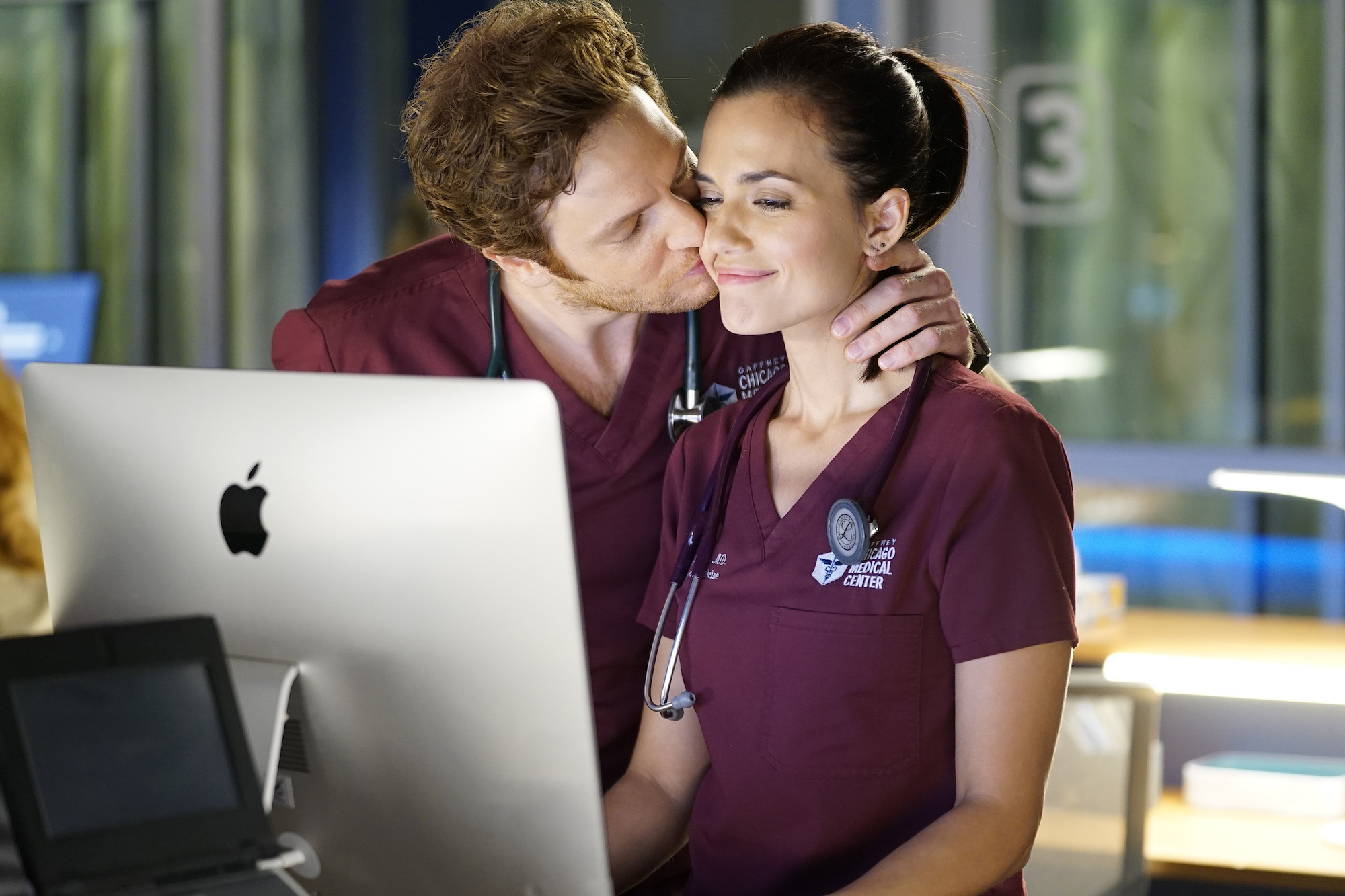 Natalie and Will had a rocky relationship
Will and Natalie met at work in the ER. Will had worked in Sudan before returning to New York and practicing as a plastic surgeon. He left his position and landed a residency at Chicago Med. Natalie was a pediatric fellow. She was recently widowed; her husband having been killed in action while serving in the military. She was also pregnant. Later in Season 1, she gives birth to their son, Owen.
Will and Natalie's relationship started out rocky. But, by midseason, in an episode called "Clarity," Natalie tells Will she is "tired of being his punching bag," and asks why it is always her, according to Fandom. He asks if she really doesn't know and plants a kiss on her.
During the show's fourth season, Natalie is waiting for him at church in her wedding dress. He stops by, says he must go into witness protection, and is whisked off. She is warned that, upon his return, he probably has changed after being kept isolated from everyone he knows and loves. It was true.
Will comes back very paranoid. Natalie takes him back and he gets a gun for protection. She tells him she hates guns and cannot have one in the house, especially around her son. He tells her that he gets rid of it, but clings to it and hides it from her until she finds out. He moves out. Their relationship seems to be over.
Enter Dr. Marcel
Love him or hate him, Dr. Crockett Marcel, portrayed by Dominic Rains, makes Chicago Med his home in Season 5. The fourth-year surgical resident is self-confident, if not cocky. His arrival comes to fill a void left in the cast by Dr. Conrad Rhodes (Colin Donnell).
Crockett has a backstory that Chicago Med viewers have only begun to explore. While frosty to him at first, Natalie has kindled a friendship with Crockett, a friendship that may evolve into more.
In the episode "Who Should be the Judge," Crockett and Natalie are kidnapped outside the hospital to care for the injured brother of an escaped convict, according to CinemaBlend. While they came out of the incident physically uninjured, it was an emotional experience creating a bond between them.
Where is Natalie's heart?
Natalie doesn't enter a relationship lightly, although her judgment has been questionable between her breakup with Will and now. Her feelings for Crockett have been growing for the past year. Fans were noticing their flirty interactions and longing looks, and some were totally on board. Yet, others were disheartened, as fans still hold out for her and Will.
Recently, we met a former girlfriend of Crockett's, Megan, a paramedic who suffered from a knife wound in the field. After she crashes, surgery is a necessity despite her hesitancy. She is about to be married and wants to be able to walk down the aisle, according to One Chicago Center.
Natalie realizes that the woman is one of many Crockett has seen since moving to Chicago. She is concerned for him, and a little jealous. We can expect their relationship to "deepen and be very complex," executive producer Andrew Schneider told TV Line. He added that we can also expect to meet Crockett's ex-wife sometime soon.
Meanwhile, Will has had some not-so-great relationships himself. Losing out on the position as ER Department chief, Will signs on as a doctor representing a medical clinical trial. A relationship between himself and Dr. Virani, who asked him to join the trial, may also be in the works.
As for Chicago Med fans, well, it appears most would simply like to see Will and Natalie finally settle down.
Source: Read Full Article