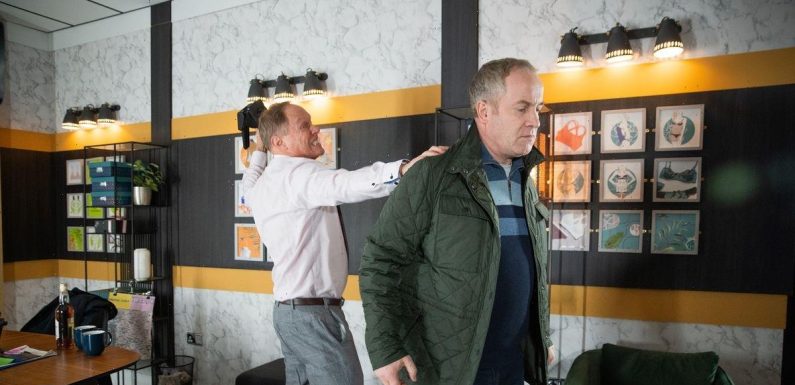 Coronation Street killer Stephen Reid (Todd Boyce) claims his next victim in devastating scenes set to air next week.
In the Rovers Stephen confides in sibling Gail Platt (Helen Worth) that he's worried Elaine Jones (Paula Wilcox) might be reading too much into their friendship.
Teddy Thompkins (Grant Burgin) overhears and parks himself at Stephen and Elaine's table.
READ MORE: Coronation Street Stephen's fate 'sealed' and fans 'won't predict' what he does to Carla
Elaine's miffed at the intrusion, but Stephen's secretly grateful.
With Elaine gone, Teddy explains to Stephen that he overheard his conversation with Gail and thought he'd come to his rescue.
Stephen's grateful and offers to get the drinks in but panics when Teddy suddenly remembers something about the accident.
In the Rovers, Elaine confides in Tim Metcalfe (Joe Duttine) how she leant Stephen £12,000 and since then he's cooled towards her.
Jenny Connor's (Sally Ann Matthews) ears prick up whilst Tim's horrified.
In the café, Teddy agrees to abandon his trip and Stephen is relieved but when Billy Mayhew (Daniel Brocklebank) says something to Teddy it triggers a memory.
As Stephen heads out of the factory, Teddy approaches and revealing that he now remembers everything, accuses Stephen of having done something to his missing Leo Thompkins (Joe Frost).
Teddy grows angry, revealing that he remembers every word of their conversation before the accident.
Stephen leads Teddy into the factory, suggesting they can talk inside.
In the factory office, Teddy accuses Stephen of doing everything he can to stop him going to Canada because in truth he killed Leo in a bid to have Jenny for himself.
When Teddy vows to report him to the police, Stephen whacks him over the head. Stephen has killed again.
Fans of the ITV soap will remember that Stephen brutally murdered Leo last year and his body is yet to be found.
Teddy and Jenny have been waiting to hear from Leo but Stephen has been trying his best to throw them off the scent.
Viewers will have to wait and see how Stephen tries to get away with his latest murder.
Coronation Street airs Monday, Wednesday and Friday on ITV at 8pm
For the latest breaking news and stories from across the globe from the Daily Star, sign up for our newsletter by clicking here
READ NEXT:
Coronation Street fans all say the same thing as furious Gary lashes out at Max

Coronation Street's Daisy and Daniel set for epic plot 'you don't generally see on TV'

Corrie's Michelle Collins, 60, hailed 'absolute looker' as she wows in intimate bed snap
Source: Read Full Article