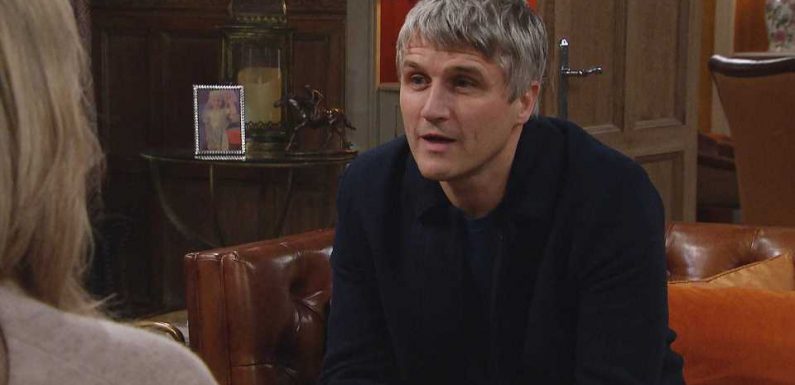 CALEB Milligan first appeared in the Dales in an attempt to reconnect with his long-lost family.
However, his surprising connection to another Emmerdale resident is revealed in upcoming scenes.
Christmas Day was highly eventful for the Dingles.
Thrown behind bars after pleading guilty to the murder of Al Chapman, Cain received a surprising visit from his secret half-brother Caleb.
The newcomer played by Will Ash rocked up the eponymous village after finding out his mother Faith had died in recent months and not thirty years ago like Cain assured him.
Since then, the missing family member has been trying to find his mark in the Dales.
More Emmerdale
Emmerdale fans heartbroken as Arthur Thomas left humiliated by cruel prank
Emmerdale's new nanny has appeared in major ITV drama
He was even ready to help Kyle Winchester, who is actually responsible for Al's death.
Very little is known about Caleb but that is all about to change in scenes due to air on ITV.
Unlike his hot-headed half-brother Cain, Caleb has found success as a businessman.
This allowed him to have a surprising connection with another resident, who is just as good in business as he is.
Most read in Soaps
EastEnders fans horrified by who police think fathered Lily Slater's baby
Five EastEnders spoilers: blast from the past, shock affair and huge decision
Five Coronation Street spoilers: creepy couple exposed and a shock police raid
Coronation Street cancelled tonight amid soap schedule chaos
Coming up, Kim Tate wants Caleb to invest in her business.
Will he accept?
Could Caleb be hiding something?
EMMERDALE NEWS
Everything you need to know about Emmerdale
New, leaving and returning Emmerdale cast
Where is Emmerdale filmed?
All the Emmerdale spoilers
Our soap spoiler live blog with up to date news
The history of Emmerdale's iconic pub The Woolpack
In recent weeks, the ruthless businesswoman played by Claire King has been trying to find somebody to shadow her in Home Farm.
After Dawn Taylor decided to return to the vet surgery for another job opportunity, Kim was left with Gabby Thomas.
While Caleb may need some room to think about Kim's suggestion, she continues to supervise Gabby in the hopes the young mother can one day take care of business without her.
Kim is set to be impressed by Gabby's pitch about expanding the business into schools and expects her to deliver on it.
Gabby tries to remain confident in front of Nicola King, councillor Colin and guests from local schools.
Nervous, Gabby glances over at Kim… who is less than happy about her shaky start to her speech.
Gabby stands her ground but will she be able to convince everyone?
Read More on The Sun
Geordie Shore castmate AXED for second time in huge series shake-up
People realise same thing about 31 December birthdays & it's blowing minds
Will Kim regret taking Gabby under her wing?
Emmerdale airs weeknights from 7.30pm on ITV.

Source: Read Full Article