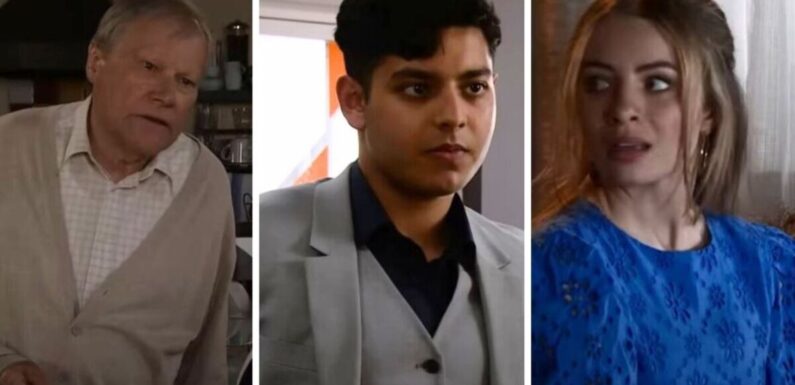 Coronation Street: Evelyn and Cassie
Coronation Street fans think a wedding could be on the cards for Roy Cropper (played by David Neilson) and Evelyn Plummer (Maureen Lipman).
The two have been friends for years but have grown closer lately and now find themselves living under the same roof.
Evelyn is temporarily staying at Roy's flat and the latest episode of the ITV soap saw the two butting heads, but it's clear there is a spark between them.
Many viewers took to social media to predict the two would officially be an item soon and might even get married.
Twitter user @pam_debeauvoir penned: "Roy & Evelyn will be announcing their intention to marry by Christmas #Corrie." (sic)
READ MORE Coronation Street cast mourn loss of 'charming' soap legend
@DivineMichaela added: "Evelyn and Roy need to happen soon #Corrie."
"Evelyn and Roy bickering like an old married couple #Corrie," @RyanTheSoapking shared.
@kaytweets_x posted: "I ship Roy and Evelyn way more than I should #Corrie."
@floweroflondon wrote: "Evelyn and Roy are just right for each other, lol #Corrie." (sic)
Don't miss…
Coronation Street star 'sad' over Peter Barlow's exit from soap after 20 years[REACTION]
Coronation Street's Ryan Connor's online work exposed by Peter Barlow[THEORY]
Coronation Street's Liam Connor falls victim to bulling in 'tense' scenes[LATEST]
We use your sign-up to provide content in ways you've consented to and to improve our understanding of you. This may include adverts from us and 3rd parties based on our understanding. You can unsubscribe at any time. More info
@mi_chelle4278 commented: "Roy and Evelyn are the best duo. Love them together. #Corrie."
During one scene, Roy admitted to Evelyn's grandson Tyrone Dobbs (Alan Halsall) that he was getting on Evelyn's nerves.
"We're going through a period of adjustment," he stated, adding: "Some of my routines are a little inconsiderate."
"She's putting you out, don't go bending over backwards for her," Tyronew reminded him.
Evelyn then demanded Roy see to her shopping list before Tyrone stepped in.
"He is not your personal butler," he told her, continuing: "Do me a favor, go easy on him."
While she responded angrily, something Tyrone said must have resonated as she later offered to cook dinner for Roy. 
Coronation Street continues on Friday at 8pm on ITV.
Source: Read Full Article