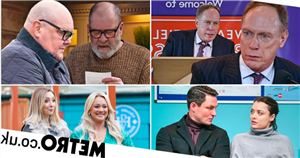 Emotions run high all across the land of soap next week, with heartbreaking times on the cards for many a resident.
EastEnders, shortly after it's acclaimed flash-forward episode, continues to deliver, with a wedding on the horizon, as Suki Panesar prepares to renew her vows with controlling hubby Nish.
Expect tears, however, as Whitney Dean and Zack Hudson's world come crashing down when they return to the hospital for their unborn baby's test results.
Emmerdale, meanwhile, airs heartbreaking scenes as Paddy Kirk contemplates taking his own life, returning to the eponymous village to say veiled goodbyes to his loved ones.
Over in Coronation Street, Stephen Reid is left in shock when he accidentally spikes himself prior to a presentation, which puts his secrets at risk.
What is he like? Will he have inadvertently exposed himself?
Lastly, Hollyoaks sees Leela Lomax embark on a new chapter, as she attempts to flirt with Joel Dexter, but is romance truly on the cards for the pair?
For all this and more, Metro.co.uk is yet again the place to be, serving up some brand new spoilers for next week's (February 27 to March 3) developments.
EastEnders
Zack does his best to remain hopeful as he and Whitney head to the hospital to find out the results of their CVS test, but their world ultimately collapses when their baby is diagnosed with Edwards' Syndrome. Whitney, devastated, pushes her loved ones away, but Zack knows he must be there, reassuring Whitney that she's not to blame.
With the tap at the Panesars having broken, Suki asks Mitch over to repair it, and subsequently softens towards him as they bond over the strifes of family life, with Suki offering him a permanent job as a handyman for her tenants. Nish, however, sees Mitch depart from their home and is consumed with a jealous rage.
Nish insists that he and Suki bring their marriage blessing forward to this week, and despite Suki's attempts to stall, the abusive businessman puts his foot down, tasking Eve with picking up his wife's wedding outfit. Eve desperately tries to win Suki over with one final conversation, but their strong words are overheard by someone. But who?
Denise is racked with guilt over her feelings for Ravi and thus tries to seduce Jack, who is working at home, but their passion is ultimately killed when she realises that her detective husband is investigating none other than Ravi!
Coronation Street
Carla prepares to make a big presentation, while Stephen laces her drink with LSD. Little does he know, however, that he's laced the wrong one! Stephen takes to the stage, with his vision becoming blurred and he starts to sweat profusely, coming to the realisation that he himself has taken the LSD-laced beverage. With a trip down memory lane on the cards, with the killer inadvertently expose himself?
Amy bonds with Aaron after a row with Summer, with the two subsequently returning to the flat after a night out, polishing off another bottle of alcohol. Amy stumbles towards the bedroom but declares herself to be too drunk, feeling sick as she falls onto the bed. Aaron, however, climbs into the bed next to her, with Amy completely oblivious as to what he does next. Amy is horrified the next day to find out what happened, telling Aaron that she was too drunk to consent, but Aaron claims they're equally responsible, which she knows is a lie.
Faye confides in Sally that Jackson, father of her daughter Miley, has made contact, asking if she wants to see them. Faye explains to Sally that she came to terms with never being a mother due to her menopause and doesn't want to run the risk of stirring up her feelings by seeing Miley. 
Emmerdale
Paddy returns home, much to everyone's joy. The vet plays up his happiness to get Marlon off his back, but afterwards, his facade crumbles and he's left upset and broken. After saying veiled goodbyes to his loved ones, Paddy writes a letter for Bear, who later discovers the letter and swoops into action. Marlon scrambles to find Paddy, while Rhona reveals that the bolt gun is missing from the vet surgery, leaving everyone determined to find him.
Arthur is left reeling when Marshall reveals that his dad Colin is sending him away to boarding school. Marshall dismisses his feelings for Arthur, claiming it was just the two of them being friends.
The day of Kyle's hearing arrives and everyone is on tenterhooks. Matty is conflicted when Amy reveals her plan to get sole custody of her son, while Cain strong-arms his way in to speak to his son, much to Amy's outrage. Caleb, however, persuades her to relent, making her see how important it is that the father and son duo share a moment. Kyle's solicitor rings with big news, but just what fate lies ahead for Kyle?
Hollyoaks
Leela is flirting with Joel and accidentally sets off the fire alarm. When the handsome firefighters arrive, she and Donna-Marie invite them to singles night at the gym, but will sparks fly?
Goldie, outraged over Sally's sacking, stages a protest outside the school, with Mercedes, Hunter – and a lot of familiar faces – in tow.
Warren makes Mercedes an enticing offer – but is it one that she can refuse? That remains to be seen, but subsequent scenes see her reveal the truth to the wrong person.
More!
Patrick and Vi are tasked with saving the day in EastEnders
Maria gives Daisy some advice in Coronation Street
Leyla kisses Jai much to Laurel's dismay in Emmerdale
Tony makes a heartbreaking confession in Hollyoaks
Lola and Jay return from honeymoon in EastEnders
Daryan leaves in search of his brother in Coronation Street
Amy proposes to Matty in Emmerdale
Nancy is offered a new position in Hollyoaks
EastEnders airs Mondays to Thursdays at 7:30pm on BBC One. Coronation Street airs Mondays, Wednesdays and Fridays at 8pm on ITV. Emmerdale airs Mondays to Fridays at 7:30pm on ITV. Hollyoaks airs Mondays to Fridays at 7pm on E4, with first look episodes daily on All4.
If you've got a soap or TV story, video or pictures get in touch by emailing us [email protected] – we'd love to hear from you.
Join the community by leaving a comment below and stay updated on all things soaps on our homepage.
Source: Read Full Article