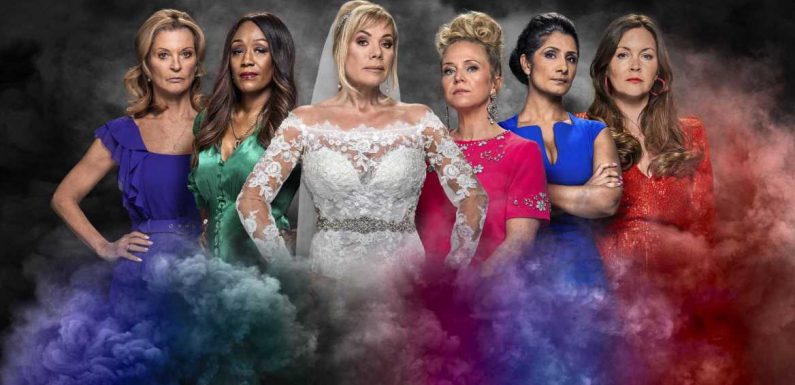 EASTENDERS is accused of copying rival soap Hollyoaks after dramatic flash-forward episode.
The Channel 4 soap did a one year flash-forward special episode on New Years Day with a murder two years ago, before BBC soap EastEnders.
2019 saw Hollyoaks characters in their current situations and then viewers got a glimpse of them one year later.
In 2019 Charlie Dean was seen picking up a video game controller and in 2020, the police find drugs hidden in Charlie's controller, setting up the county lines storyline.
In 2019, Luke Morgan prepares to tell his son Ollie of his frontotemporal dementia diagnosis.
In 2020, Ollie bursts into tears on a bathroom floor as drugs are thrown at him, saying "I miss him so much," teasing a difficult year for Luke and his family.
read more on eastenders
EastEnders fans 'work out' who will die in flash-forward as 10 theories revealed
EastEnders' Lacey Turner shares game-changing theory about who dies at Xmas
In 2019, Kyle Kelly agrees to marry Nancy Osborne and Tom Cunningham cuts a wedding cake.
But in 2020, Darren Osborne breaks down in The Hutch kitchen covered in blood, teasing a death where the victim will be revealed a year later.
In 2019, Sid Sumner prepares to sleep with Juliet Nightingale.
In 2020, Juliet tells Peri Lomax that she loves her, revealing her sexuality.
Most read in Soaps
EastEnders viewers call out 'major blunder' as Dean Wicks makes a return
EastEnders fans spot 'giveaway clue' about victim of flash-forward murder
Suki Panesar in danger as her shocking secret exposed in EastEnders
Serial killer Stephen makes mistake with victim in Coronation Street
The episode set up new storylines for the characters that developed over the year.
Similarly, EastEnders has ignited a new storyline after last night's intense flash-forward scene showing viewers a of Christmas Day 2023.
The scene saw six of Walford's much loved matriarchs.
Linda Carter (Kellie Bright), Suki Panesar (Balvinder Sopal), Stacey Slater (Lacey Turner), Denise Fox (Diane Parish), Sharon Watts (Letitia Dean) and Kathy Beale's (Gillian Taylforth) lives are set to change forever as a huge new storyline kicks off.
The women are back in The Queen Vic, but this time things are less jovial.
Each of the women look horrified as they look down at the floor.
Sharon is in a wedding dress with blood stains and Denise holds a broken champagne bottle.
Stacey's hands are also soaked in blood and Suki looks on in horror.
Sharon hovered over the body and bent down to check the pulse of the mystery figure – who was dressed in a suit wearing cufflinks.
She then shockingly revealed to the other women: "He's dead."
But who is the murder victim?
Viewers will have to wait until Christmas Day 2023 to find out.
EastEnders producer Chris Clenshaw revealed: "The episode will act as a catalyst for major storylines involving each of the characters that will play out over the year.
"We developed the idea and thought it would be even more exciting if we didn't reveal who the victim is – becoming so much more than a "whodunnit"… It's a "who-is-it" as well."
Viewers were left fuming after claims that EastEnders were the first soap to do a flash-forwards episode.
Taking to Twitter, one said: "So the big never been done before in soap twist on EastEnders is exactly the same twist Hollyoaks did two years ago?"
Another wrote: "A flash forward with a dead body now where have I seen that before…. Maybe #Hollyoaks ??!? #EastEnders copying storylines."
A third penned: "Why do people keep saying the #EastEnders flash forward is the first time it's ever been done?!? #Hollyoaks did this very thing when Kyle died last year!"
A fourth tweeted: "The EastEnders flash forward isn't history making as @Hollyoaks did it first!"
Read More on The Sun
Noughties X Factor pop legends tease tour plans with 'big announcement' promise
I got my council house for £37.5k now it's worth £170k thanks to my love of DIY
EastEnders airs Monday to Thursday on BBC One and iPlayer.
Source: Read Full Article