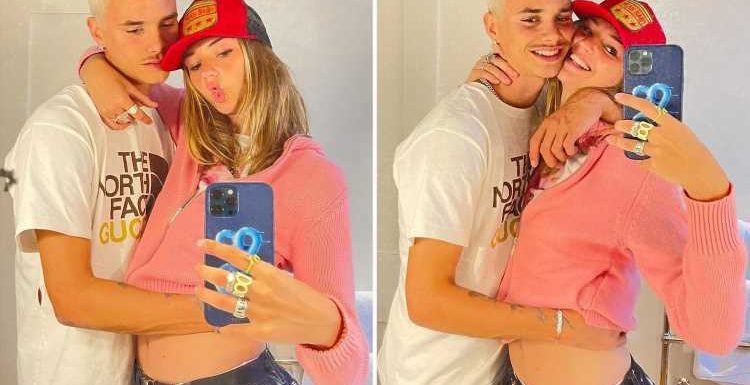 ROMEO Beckham has set tongues wagging after posting a picture of his model girlfriend Mia Regan's stomach.
The 18-year-old son of David and Victoria Beckham cuddled up to his other half for a loved up snap – but fans were convinced there was a hidden message.
Wrapping his arm around her waist as they posed for a mirror selfie, Romeo captioned it: "Smiley."
But after believing Romeo was drawing attention to Mia's tummy, many were left asking whether she is pregnant.
One said: "Is she pregnant?"
Another asked: "Is someone pregnant?"
The teenagers celebrated their second anniversary earlier this month after first getting together in May 2019.
They shared their special moments spent together in a variety of snaps, including a clip of them on a swing and a pic of them cuddling.
Romantic as ever, Romeo dedicated his latest Instagram posts to his beau and declared his love for her while wishing for a happy future together.
Romeo captioned the swing video: "2 YEARSSSS DAMMNNNN !!!! I love you so much ♥️ MANY MORE YEARS TO COME ♥️ YOU DA BEST @mimimoocher"
Mia replied: "2 years of NUFIN BUT LOVEEEE! Grate for u stink."
Other photos included the couple holding hands, which showcased their jewellery and tattoos.
Fans doted over Romeos latest pics and commented: "You guys are so cute together!"
Another fan noted: "mimi and roro forever"
And a third said: "BEST COUPLE!!!!!"
Source: Read Full Article