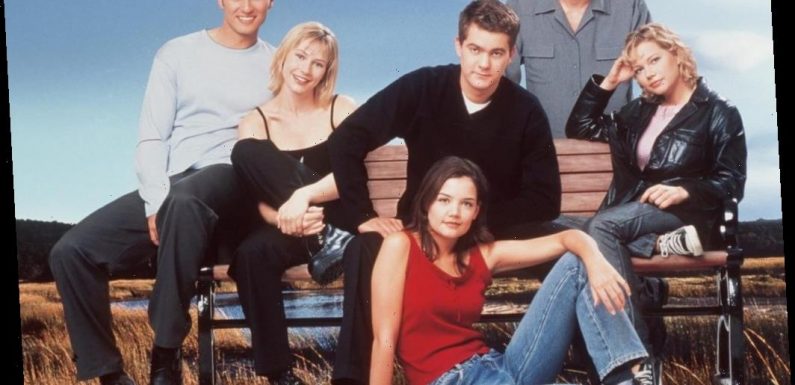 Dawson's Creek is a series that will always define a generation and a specific moment on television. One of The WB's signature series in the late '90s and early 2000s, the show was a reminder of how beautiful and horrible coming-of-age and the teen years can be.
Dawson's Creek ran for six seasons, and it tackled a variety of topics, including death, sex, friendship, and rivalries. However, though it was ahead of its time in many ways, The WB banned one word in the very first episode of the show.
'Dawson's Creek' is one of the most beloved teen dramas of all time
Set in Massachusetts, the series centered around four teenagers as they moved through their final years of high school and into their college and young adult years.
Dawson Leery (James Van Der Beek), was a wannabe filmmaker obsessed with getting into USC and completely oblivious to the fact that his life-long best friend, Joey Potter (Katie Holmes) was in love with him. Things begin to shift between the friends when a new girl, Jen Lindley (Michelle Williams) comes to town, stealing away Dawson's affections.
Things spiraled even further by Season 3 of the series when Joey and Dawson's male bestie Pacey Witter (Joshua Jackson), realized their romantic feelings for one another, isolating a despondent Dawson.
James Van Der Beek and Joshua Jackson had an intense feud in real-life
Dawson's Creek fans will call Season 3 of the series one of its best. After all, it's the season in which Joey is forced to choose between Dawson and Pacey. Though they had been good friends and even roommates in Season 1 of the show, by Season 3, Van Der Beek and Jackson were at odds.
Writer Dana Baratta explained that the men weren't getting along while filming Season 3. She told Vanity Fair that the writers avoided putting them in scenes together – which helped fuel the Pacey vs. Dawson storyline.
Thankfully, the ill-will between Jackson and Van Der Beek was squashed a long time ago. Over the years, they have shared photos and videos of themselves together on social media.
The WB banned this word from the pilot episode of 'Dawson's Creek'
As full of controversies and groundbreaking as Dawson's Creek eventually became, in 1998, The WB balked at one particular word that was originally put in the pilot episode.
In the episode, Joey asks Dawson, "How often do you walk your dog?" However, in the original script, she was much more blunt than that. According to Mental Floss, in the original script, Joey plainly asked Dawson, "How often do you masturbate?" However, after examining the pilot, Standards and Practices told the writers that they couldn't say the word "masturbate" on television.
The writers had to go back to the drawing board to come up with another word.
Source: Read Full Article