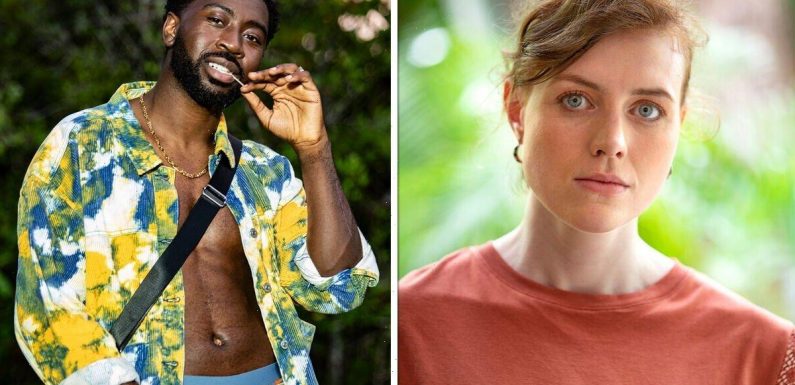 Ralf Little jokes about scene in Death in Paradise
We use your sign-up to provide content in ways you've consented to and to improve our understanding of you. This may include adverts from us and 3rd parties based on our understanding. You can unsubscribe at any time. More info
Death in Paradise is returning to BBC One with a brand new season with Ralf Little back as Neville Parker. He will be joined by all of the main cast as well as some A-list guest stars throughout the series. Express.co.uk has all you need to know about who is joining the first episode.
Who is in Death in Paradise season 12 episode 1?
Sophie Chambers – Chelsea Edge
Sophie was introduced in the Christmas special as Neville's potential new love interest.
After a chance meeting at an airport car park, the pair realised they share a special connection.
Sophie is played by Chelsea Edge, who has previously starred in I Hate Suzie, The Missing, Suspicion and Vera.
She paid tribute to the rest of the cast when she joined Death in Paradise, saying: "Everyone's great and they are so lovely and talented.
"It's nice when you come onto a job that you feel like you have a good set of friends.
"I have been very welcomed by all the cast."
Jeremy Herbert – Kevin Eldon
Jeremy Herbert is a friend of guest character Bertrand from university, who heads up an observatory.
He is played by Kevin Eldon, a 63-year-old actor and comedian known for his roles in Fist of Fun, It's Kevin and Game of Thrones.
The Kent-born actor has two children with his wife Holly, who is an art director.
Sally Blake – Alexandra Moloney
Sally Blake is played by Alexandra Moloney, an Irish actress who has starred in The Nest and DannyBoy.
She has just finished working on a project called Lighter, in which she plays Charlie.
Her other notable credits include Domina, and the short films Razzmatass and His and Hers Shower Towels.
Sunil Singh Kirmani – Amit Shah
Sunil Singh Kirmani is an amateur astronomer and he is played by Amit Shah.
Amit appears to be making his acting debut in Death in Paradise.
Eddie Marlow – Aaron Shosanya
Eddie Marlow is a local man who has had previous run-ins with the police.
He is played by Aaron Shosanya, a British TV, film and theatre actor who discovered his love for drama through his mother, who is actress Evelyn Duah.
His credits include Famalam, Top Boy, Silk, The Sarah Jane Adventures, The Crouches and Lenny Henry in Pieces.
Miriam Sworder – Sarah Woodward
Miriam is the wife of Bertrand, a man who is the subject of the murder mystery.
Viewers may also recognise her from The Real Thing, Death in the Clouds, or Professor T.
DON'T MISS…
Here's everything you need to know about Death in Paradise season 12 [INSIGHT]
Death in Paradise exit fears as fans predict Ralf Little's future [DISCUSSION]
Beyond Paradise boss explains why 'it had to end' for former stars [INTERVIEW]
Bertrand Sworder – Christopher Villers
Bertrand is a celebrated professor who winds up dead in the first episode.
He is played by Christopher Villers, a 62-year-old English actor, screenwriter and producer.
The star has appeared in The Crown, Slow Horses, Ghosts and The ABC Murders.
One of his biggest roles was as Colonel Brigwell in the series Hetty Feather.
Back joining Neville are Commissioner Selwyn Patterson (Don Warrington) and Sergeant Naomi Thomas (Shantol Jackson).
Also returning are Officer Marlon Pryce (Tahj Miles) and Darlene Curtis (Ginny Holder).
Rounding off the main cast for season 12 is Catherine Bordey (Elizabeth Bourgine).
There will be new guest stars in each of the eight episodes.
Death in Paradise airs on Fridays on BBC One at 9pm.
Source: Read Full Article