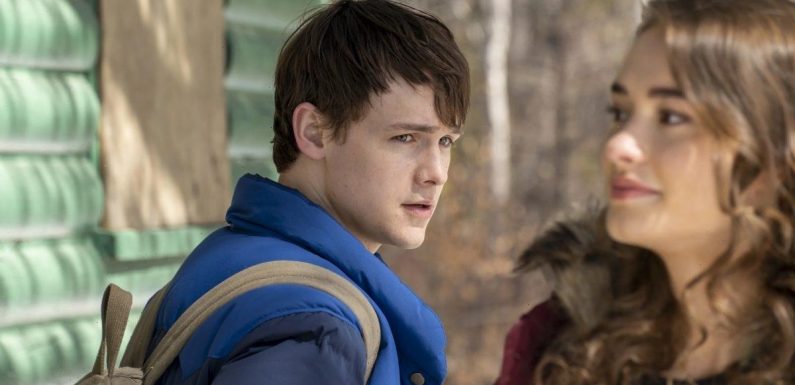 Unsurprisingly, Dexter: New Blood is pretty dark already. Harrison shows up at Dexter's home and turns his life upside down. Harrison becomes a hero at his school when he appears to stop a school shooter from exacting revenge. In episode 5, Harrison is invited to a high school party in his honor. Dexter: New Blood writer Veronica West sat down with Executive Producer Scott Reynolds to discuss the complicated and confusing scene.
What happened to Harrison in 'Dexter: New Blood'?
In Dexter: New Blood, Harrison befriends a boy at his high school named Ethan who is being bullied by jocks. Their friendship quickly turns awry after an incident at school. Harrison says that Ethan told him of his plans to gun down his school bullies. Then, Ethan attacked Harrison, who was forced to slash his leg.
Dexter believes the blood splatter tells a different story, but regardless everyone in town sees Harrison as a hero. Zach the jock shows up to escort Harrison to a party. All the guests had their names written on Ethan's "kill list" and Harrison is their savior and guest of honor. A lot goes down during the party, and the writers thought out every detail.
'Dexter: New Blood' writer explains the 'kill list party' sequence
Dexter: New Blood writer Veronica West discussed creating the "kill list party" scene with Executive Producer Scott Reynolds on the Dexter: New Blood Wrap-Up podcast. "It felt like a real kind of truthful high school moment. He's had a fight with his dad," West said, commenting on how Dexter doesn't believe Harrison's story about the incident with Ethan.
"He goes to just rebel and party and I what was cool about breaking this season I think was to get explore what it's like growing up in this day and age."
West described her desire to express the jaded feeling of this generation, inheriting the disasters of climate change and desensitized to death and murder. "You have to do it justice in the party scene. It can't just be red solo cups and beer and dirty dancing."
Harrison drinks a lot and takes drugs, and in a vulnerable moment, confesses the truth about his dad's identity to Audrey. "You guys kept it really personal and individual and his [Harrison's] pov," West said to executive producer Scott Reynolds. "It was always about what it was making him feel and his devolution to having to confront what he's really running from."
"When you do party and take it a step too far, I think it's because you don't want to acknowledge something that's going on that's really bothering you," West continued.
Why did Harrison cut someone at the party?
One of the more confusing scenes during the "kill list party" in Dexter: New Blood comes when a teen girl asks Harrison to carve an "H" into her leg. "So I'll always remember my hero," she tells him. The girl encourages Harrison to do it, but the moment he makes a cut she of course freaks out.
"I always came at this through the lens of Harrison's experience and what would be troubling to him. So that sort of branding moment which people do do, like how would that affect him?" West said on the podcast.
"I loved that the girls freaked out as soon as it happened. Like they're f***ed up and think that this is a cool thing to happen but I think it's pretty honest and true. Like, 'Why did I just ask this guy to cut me?'"
Reynolds also mentioned that this is the turning point where the party is no longer fun for Harrison. The idea of Harrison's "darkness" is brought to the surface, and not long after he overdoses on fentanyl.
Source: Read Full Article