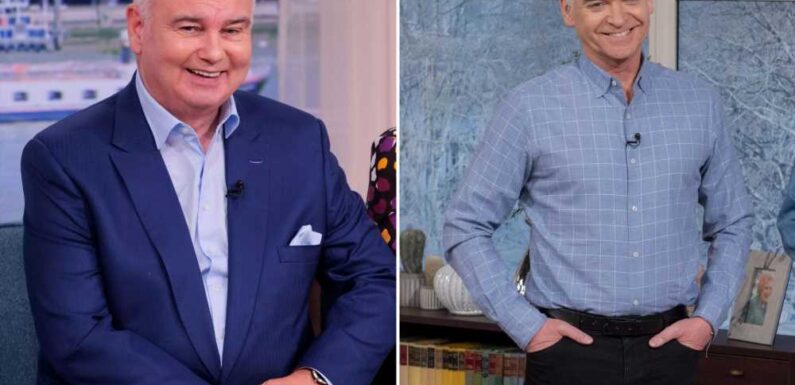 EAMONN Holmes has slammed Phillip Schofield again – saying he doesn't believe the presenter's claims that he has made only "one mistake" in his 41 year career.
TV presenter Eamonn, 63, has insisted that there are further "lies", and "more will come out".
Phillip, 61, said he was "mentally utterly broken" in an interview with The Sun and admitted if it hadn't been for his daughters Ruby and Molly, he "wouldn't be here".
The former TV star said he believed his career was "over" and he had "lost everything" after admitting he had lied about having a relationship with a younger male college.
Speaking on his GB News on Monday, Eamonn called for "anyone watching today who has kissed Phillip Schofield, let us know."
Eamonn told viewers: "He said in is forty odd years of broadcasting that he's made one mistake, he had one kiss that he shouldn't have had.'
READ MORE ON PHILLIP SCHOFIELD
Holly Willoughby arrives at ITV for first This Morning show since Phillip exit
I won't watch Holly's return to This Morning, says Phillip Schofield
"I put it to anyone watching today that if you have kissed Phillip Schofield let us know. Let us see if that figure of one grows to the figure that I believe it is probably at."
Eamonn expressed his thoughts on Phillip's interviews with his co-anchor Isabel Webster and showbiz reporter Ellie Phillips.
Eamonn said "We're not supposed to criticise him in case he harms himself but he still thinks he can go on and say lies, lies, lies."
He went on: "He's admitted he is a liar. You should see the emails, the texts and the messages I've been sent over the past week. I think he's getting off very very lucky.
Most read in News TV
BGT fans demand show is cancelled after shock winner in 'joke of a final'
Susan Boyle reveals secret health battle as she makes surprise appearance during BGT
Simon Cowell 'in pieces' as Britain's Got Talent 2023 winner revealed in final
I won't watch Holly's return to This Morning, says Phillip Schofield
"Like everybody else he lied to me, I was happy to stand by him until I found out that he was lying… This isn't about him being gay, not in the slightest."
It comes after Eamonn branded Phillip a "hated narcissist" in a merciless take down of his former co-presenter.
The ex-This Morning host also blasted Phil for bringing "toxicity" to the ITV show and claimed staff were "frightened" of him.
Phillip hit back at the claims in an interview with the BBC, saying: "Some people are toxic and see toxicity everywhere because that's the lens they are looking through
"There is no toxicity. There is no bullying. There is no discrimination at This Morning."
He added: "All I see is angry people shouting about a show they're not on anymore."
Phillip, who was married at the time, branded his relationship with a much younger man "unwise but not illegal".
 ITV boss Carolyn McCall has been called to face MPs amid the ­ongoing This Morning furore.
Read More on The Sun
Holly Willoughby arrives at ITV for first This Morning show since Phillip exit
BGT fans shocked as live audience 'boo' judge within seconds of final starting
She has been called to give evidence to a parliamentary committee to answer questions about the broadcaster's approach to safeguarding and complaint-handling following Phillip's resignation.
The chief executive will face questions from MPs on the This Morning row at the Culture, Media and Sport committee on June 14.

Source: Read Full Article