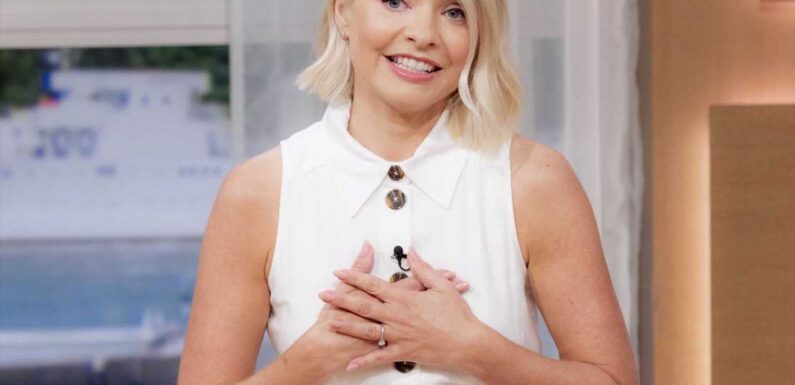 HOLLY Willoughby delivered a "clinical" speech that cleverly painted herself as Phillip Schofield's "victim", PR gurus have claimed.
The TV presenter made a tearful return to the show after a two-week break – telling viewers she was "shaken" by her ex-best friend Phillip Schofield's scandal.
But industry experts are convinced the 42-year-old made an "insincere" statement in a bid to save the show.
It's after married Phillip caused controversy over coming clean about his affair with a much younger ITV runner.
He branded the relationship "unwise but not illegal" and insisted Holly did not know about his affair as he quit the channel.
Holly mentioned his name only once during the 90-second monologue on today's This Morning – despite being best friends for 17 friends.
READ MORE ON THIS MORNING
This Morning fans think same thing after Holly Willoughby's emotional statement
Holly Willoughby's heartfelt message to This Morning viewers in emotional return
Holly said "it feels very strange indeed sitting here without Phil", before telling viewers she was feeling "troubled, let down" and keen to move onto a "new chapter".
Expert Leon Emirali – an adviser to PR agency PLMR – claims Phil and Holly are in a direct PR battle to "win the public's hearts and minds".
He told us: "Both are trying to position themselves as victims in a bid to win sympathy from the public, which is a tried and tested PR technique for high-profile figures to deploy when in the eye of the storm.
"We saw from Holly's message to This Morning viewers that she is trying to take the upper ground – to position herself above it all by asking for healing and to 'start a new chapter'. 
Most read in TV
Holly fights tears saying she feels 'let down' by Phil 'not telling the truth'
BGT fans demand show is cancelled after shock winner in 'joke of a final'
Simon Cowell 'in pieces' as Britain's Got Talent 2023 winner revealed in final
Britain's Got Talent reveals Viggo Venn as the winner in dramatic final
"This is smart. She is saying, albeit indirectly, that she is collateral damage for Phillip's actions and is trying to distance herself from him once and for all.
"She's made clear that she is feeling 'let down' by Phillip and suggested that people at home would be feeling the same.
"In other words, Phillip has not only lied to me, but he's lied to you, the viewer."
Meanwhile Claire Powell, CEO of The Can Group, says the thoroughly rehearsed statement Holly read out at the start of This Morning came across "clinical".
Claire, who represents the likes of Peter Andre and billionaire John Cauldwell, told The Sun: "I personally think Holly would have been told to say an awful lot of that by ITV.
"She had to come back and address it, but I don't think it was very sincere how it came across.
"I understand she wants to save the show and she needs to get people to trust the show again and move forward.
"She hasn't done anything wrong. It's Phillip's doing that he decided to keep what he'd done from his wife and friends.
"She mentioned Phil but it would have been totally organised by ITV.
"I think because it was read from the autocue it came across a little clinical, but she has been friends with him for an awful long time. 
"No one really knows the truth, only her and him. He's made a big mistake, but it's not her mistake."
Holly's eyes filled with tears and she was forced to take a deep breath during the statement she read directly to camera.
The mum-of-three said she was "shaken, troubled and let down" by what had unfolded over the last two weeks.
It follows Phillip's interview with The Sun, in which he admitted having suicidal thoughts since leaving This Morning.
Phil told how Holly has broken all ­contact — and revealed it was his paedophile brother's imprisonment that made her distance herself from the friendship.
Ending her statement today, Holly spoke of starting a new chapter, to "get back to a place of warmth and magic that this show holds for all of us".
Katie Price's former close friend and representative Kirsty Shaw-Rayner, said: "Holly's speech shows she's trying to distance herself from Phil – the fact it's so short and sweet and she says to 'move on' at the end means she wants to leave him behind."
Speaking on behalf of Press Box PR, Lyn Carratt said: "It felt like there was no sincerity or warmth.
"It's clear Holly was attempting to distance herself from Phillip, barely mentioning his name, and trying to appeal to viewers at home, positioning herself and identifying herself as one of them.
"It could be seen as a tactical move from Holly and in recent weeks she has proven herself to be very steely in terms of saving her own career. 
Read More on The Sun
Holly Willoughby pictured arriving at ITV for first This Morning since Phil exit
BGT fans shocked as live audience 'boo' judge within seconds of final starting
"She is tenacious enough to move forward with her presenting career without him.
"She had to do something, but something straight from the heart and honest would have won her more points with the viewers."

Source: Read Full Article