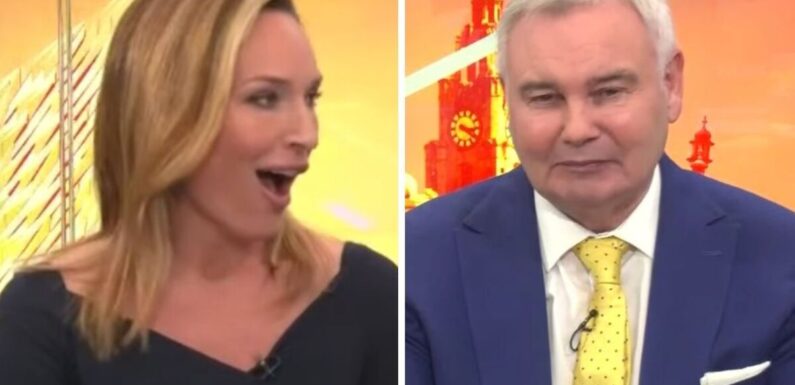 GB News: Isobel tells Eamonn to 'wash his mouth out'
GB News' Isabel Webster told her co-star Eamonn Holmes to wash his mouth out over remarks made about children being on flights.
The duo were discussing whether or not people without children should go on holiday during the school holidays in August.
Admitting he didn't know where he stood for the debate, Eamonn joked they should be put in the hold.
He said: "Listen, I wouldn't put my dog in the hold, but I would put my children in the hold."
Isabel replied: "Wait, you have a little gorgeous grandchild and another one soon to be."
READ MORE Eamonn Holmes on moment BBC co-stars stopped him being replaced by Gary Lineker
Although it looks as though the 63-year-old's outlook remained the same regardless of if the child is family or not.
He indeed: "Well, if she was to break the silence and annoy me and whatever it is, then she wouldn't be so gorgeous."
Shocked at his bluntness, Isabel let out an exaggerated gasp and replied: "Wash your mouth out, you horror."
Earlier in the show, Eamonn didn't hold back as he confessed those with children should be sent to the back of the plane.
Don't miss…
Neighbours twins Christina and Caroline unrecognisable 30 years after soap exit[IMAGE]
Jonnie Irwin assures fans 'it's not doom and gloom' as he shares health update[VIDEO]
BBC Breakfast viewers fume 'get on with it' they blast sports coverage[REACTION]
We use your sign-up to provide content in ways you've consented to and to improve our understanding of you. This may include adverts from us and 3rd parties based on our understanding. You can unsubscribe at any time. More info
He joked: "There should be like a cage put across and bolted, anybody with sprogs should be in the back there.
"Then everybody else should be left in peace."
Although Isabel revealed there were times she would take her young son on flights and wasn't able to control him despite her best efforts.
She added: "I was trying my best to control him, my absolute best and I was telling him off for being a bit wild. But he wasn't listening.
"There was nothing I could physically do to try and contain this little ball of energy.
"I remember being on the verge of tears at times and people, often women, probably mums themselves who had just forgotten what it's like being given a really hard time."
However, Eamonn quipped her son's behaviour could've been down to her not being scary enough.
GB News is a 24-hour rolling news channel that can be viewed on all major UK platforms including Freeview, YouView, Sky, Virgin Media and Freesat.