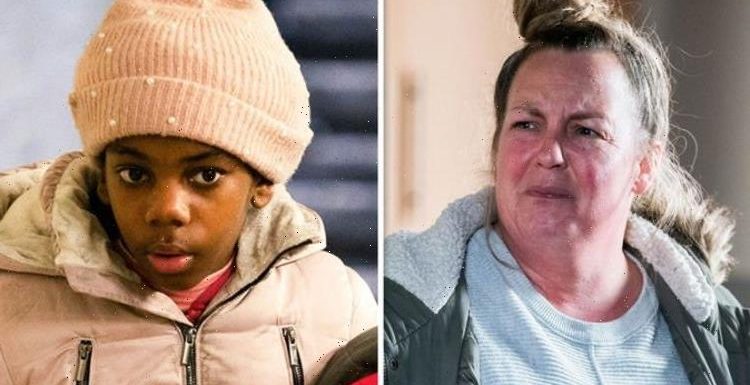 Harry Redknapp discusses EastEnders appearance
When you subscribe we will use the information you provide to send you these newsletters. Sometimes they'll include recommendations for other related newsletters or services we offer. Our Privacy Notice explains more about how we use your data, and your rights. You can unsubscribe at any time.
Karen Taylor (played by Lorraine Stanley) was horrified when she discovered Bailey Baker (Kara-Leah Fernandes) had run away from home because of the Taylor-Baker clan's money problems in EastEnders. The concerned mother has been doing all she can to find her adoptive daughter but her recent bout of vandalism could mean she'll be confined to a prison cell while someone reaches out with news of Bailey's whereabouts.
In tonight's instalment of the BBC soap, Karen and Mitch Baker (Roger Griffiths) participated in a press conference to reach out to the public.
However, when the mum lashed out and divulged the family's money problems, keyboard warriors trolled Bailey's fundraising page.
Karen confessed to Mitch that she felt no one on the square had helped them before Keegan Baker (Zack Morris) pointed out someone had left a basket of gifts on their doorstep.
The mum was furious with the gesture and marched out into the market to confront those responsible.
Karen began: "You think this helps a packet of biscuits and a bath bomb, who did this?"
Read more: 'Why haven't you told me?' Jamie Redknapp scolds Harry for EastEnders
"It's a small gesture," Denise Fox (Diane Parish) said and Karen continued: "You think I have time to sit in the bath when my little girl is living on the streets or dead in a ditch?
"And this [card], 'We're here for you' is that what you think? She's been missing for days and I've hardly seen you."
"We're sorry we do want to help," Denise said and Sheree Trueman (Suzette Llewellyn) echoed: "Of course we do."
"Then give me a job in your salon, a few shifts sweeping the floor," Karen quipped.
"You knew I was out of work that money was tight I want to earn I don't want to pounce.
"And people go on about community, about being kind posting things online about the state of the country.
"Sticking up sad face emojis and knocking back a glass of wine, does this make you feel better?
"Does that help you sleep at night? I'm sick of you I'm sick of all of you."
Turning her attention to the builders working at the laundrette, she said: "Mr P, laying me off says he's got no money.
"How much is he paying you? £500, £1,000? Do you know how long I can feed my family with that sort of dough?
DON'T MISS
Tipping Point's Ben Shephard stunned by whopping counter drop [VIDEO]
The Crown: Freddie Fox addresses 'duty of care' for Mark Thatcher role [INTERVIEW]
Monty Don opens up on Gardeners' World wishlist as he addresses future [INSIGHT]
"But no I don't count I don't matter he cares more about his washing machines than he does about me."
"But I'm not having it," she declared before picking up a hammer and smashing the laundrette's windows.
As the police arrived, Karen exclaimed: "That's it lock me up, shut me up, pretend I don't exist."
The mum broke down in tears as she called out for her missing adoptive daughter to return home.
However, after her recent outburst, will Karen be held in police custody while the Taylor-Baker clan receive news on Bailey's whereabouts?
The press conference may lead to someone getting in touch with information on the missing schoolgirl.
But even if Bailey's found safely soon, Karen's cry for help could be a sign she's ready to leave Walford behind.
The grieving mother has struggled to cope with Chantelle Atkins' (Jessica Plummer) death and Bailey's disappearance could be all the motivation she needs to leave Albert Square for good.
EastEnders continues on BBC One on Friday at 8.435pm.
Source: Read Full Article