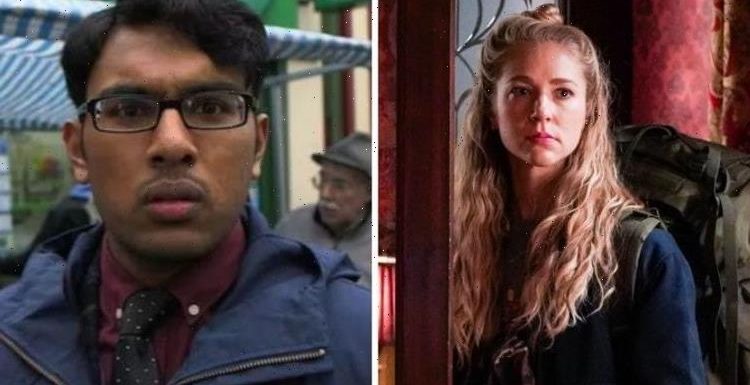 EastEnders: Nancy Carter speaks to Tamwar about needing money
When you subscribe we will use the information you provide to send you these newsletters. Sometimes they'll include recommendations for other related newsletters or services we offer. Our Privacy Notice explains more about how we use your data, and your rights. You can unsubscribe at any time.
In scenes that aired during tonight's EastEnders, Nancy Carter (played by Maddy Hill) made a surprise return and ended up gatecrashing Frankie Carter's (Rose Ayling-Ellis) party at the Queen Vic. Despite being shocked at his daughter's arrival, Mick Carter (Danny Dyer) was thrilled to have both daughters under one roof. However, towards the end of the episode, things took an expected turn when Nancy made a secret phone call to Tamwar (Himesh Patel) and questioned him about some money. But what is it for?
During tonight's instalment of the BBC soap, Mick finally admitted to everyone in the pub that Frankie was in fact, his daughter.
"It's my daughter's birthday. Everyone, Frankie is my daughter," Mick announced.
"I feel very happy and very honoured to spend a birthday with a daughter that I love."
"Oh, balloons, you shouldn't have," Nancy interrupted as she entered the pub.
As Mick and Nancy went upstairs to get her settled, he began to quiz his daughter on why she was back.
"So, what's this all about?" He questioned.
Nancy replied: "You're not even pleased to see me, are you?"
"Of course, I am pleased to see you, I only saw you last month," Mick told her.
"I'm making up for lost time, aren't I?" Nancy explained.
"You last rocked up out the blue dropping the bombshell that I have a sister and that you….
"I came back to check you were okay, I didn't realise my sister would actually be living here.
"If I knew you didn't need me around…"
Mick interrupted: "What are you talking about? Wouldn't need you around. You're my Nancy…It's everything else I'm trying to work out."
DON'T MISS…
EastEnders spoilers: Phil's downfall sealed as Kat exposes secret? [SPOILERS]
EastEnders spoilers: Tiffany Butcher attacked by newcomer? [INSIGHT]
EastEnders spoilers: Ian Beale returns with Beppe to destroy Sharon? [THEORY]
Mick went on to ask why Nancy didn't bring Tamwar with her, to which she replied he couldn't get the time off work.
Later, Nancy could be heard making a secret phone call to Tamwar demanding money.
She raged: "There's nothing in the account, Tamwar.
"Well, can you move it back, please? Because I need that money now."
It is unclear what Nancy needs the money for, but EastEnders viewers have come up with the theory it's to do with her and Tamwar getting a divorce.
Taking to Twitter one said: "'Tam, I need that money' Divorce Nancy?"
Another agreed: "I hope not, but it's not looking good…"
A third added: "Hold up, don't say Tamwar and Nancy are having divorce proceedings and they are fighting over their shared money. WHY DID NZ DESTROY THE ONLY OFF-SCREEN RELATIONSHIP I HAD LEFT?!" (sic)
A fourth quizzed: "Nancy is back but why?"
"Ah Nancy and Tamwar still together at the moment. Obviously, they'll eventually break up but I loved them together," a fifth tweeted.
Nancy told Mick she was only back for two weeks, but if she and Tamwar are getting a divorce does that mean she could be back for good?
EastEnders is available to watch on the BBC iPlayer.
Source: Read Full Article