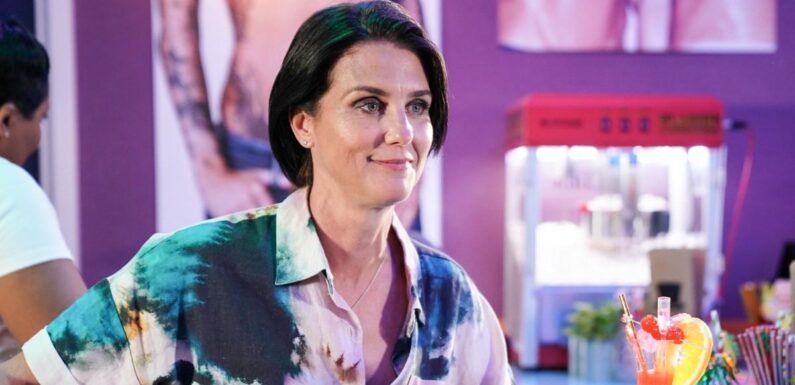 EastEnders star Heather Peace has delighted Sukeve fans by revealing an unscripted change to a 'beautiful' scene.
Eve Unwin's ill-fated romance with Suki Panesar (Balvinder Sopal) has garnered quite the following online, with fans tuning in worldwide to see what is in store for the couple.
Hearts broke the world over as Suki decided to choose husband Nish (Navin Chowdhry) over lover Eve in order to protect her, with dedicated viewers still holding out hope for a reunion between the couple.
In recent scenes, Suki and Eve shared a heart to heart about Eve's twin sister, Erica, who died after being hit by drunk driver Caroline.
Suki accompanied Eve to the police station, where she was told that the new evidence she had discovered would make no difference as the case had been closed.
To view this video please enable JavaScript, and consider upgrading to a webbrowser thatsupports HTML5video
This rocked Eve to her core, and led her to make some heat of the moment decisions as she asked Caroline to meet with her.
Meanwhile, Suki was clearly concerned for her welfare, and set about tracking her down with the help of Stacey Slater (Lacey Turner).
When they finally found her, Caroline was in a bad way. It was then a battle of wills to convince Caroline not to go to the police in order to keep Eve out of prison.
In one of these scenes, viewers saw Eve fall asleep with her head in Suki's lap, something which really stood out to fans of the couple.
One fan took to Twitter with a screenshot from the touching moment, wondering if it was in the script.
The Tweet soon received a response from actress Heather Peace, who revealed that the moment was unscripted, but 'seemed appropriate under the circumstances'.
Whether or not Sukeve do get back together remains to be scene, but we are certainly holding out hope.
Source: Read Full Article