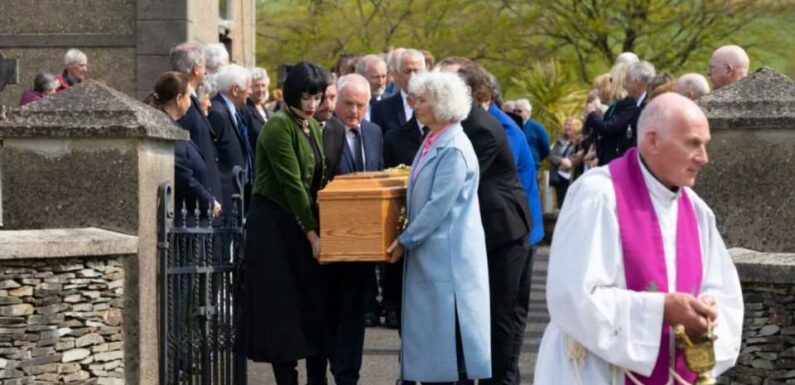 ED Sheeran was heartbroken to miss his beloved grandmother's funeral today.
The pop star is in the US for a court case as 98-year-old Anne 'Nancy' Sheeran, who died last week, was laid to rest in her native Co Wexford.
Anne – who inspired one of her famous grandson's best known tunes 'Nancy Mulligan' – was buried in St Patrick's cemetery Craanford after requiem mass in St Patrick's Church, Monaseed, Gorey.
Ed's father John told mourners the singing sensation was "so upset" to miss his gran's funeral.
But John revealed how his son had to stay in America to "defend his integrity" in a copyright infringement case before a Manhattan federal jury.
Sheeran is fighting the case after being accused of copying Marvin Gaye's legendary R&B song Let's Get It On in his 2014 hit Thinking Out Loud.
Crusading Ed has vowed that if a jury does find him guilty, he will quit music.
Sheeran's dad John told Anne's funeral mass Ed was devastated to miss out on the farewell to his grandmother.
In his eulogy, John said: "I am very sad that our son Edward is unable to be here today.
"He's so upset that he cannot be present.
Most read in Celebrity
Moment man arrested 'for throwing gun cartridges into Buckingham Palace'
Coronation Street actress Rebecca Ryan gives birth and reveals adorable name
Boy, 9, died after being 'beaten & held in cold bath by mum and her fiancé'
Towie's Amber Turner and Dan Edgar split after six years together
"He has to be thousands of miles away in a court in America defending his integrity."
FAMILY'S TEARS
Fighting back tears, John revealed Ed got "comfort" after spending some time with his grandma before her passing.
John said: "I know he is comforted by the fact that he was able to spend some precious time alone with his grandma just a month ago."
Anne Mary Sheeran, née Mulligan, died peacefully at Castle Gardens Nursing Home in Enniscorthy last Tuesday.
Known as Nancy, the nurse from Gorey was remembered as community centred and sports-mad.
During his eulogy, John recalled how his mum enjoyed a friendship with Olympic gold medal hero Mary Peters.
Mourners also heard how keen golfer Anne regularly played in Courtown Golf Club, and was one of the founding members of the Past Captains of County Wexford Golf Society.
John described Anne as someone who provided support to anyone who needed it.
He said: "Mum was a driven woman all her life, with a strong social conscience and an innate desire to help others less fortunate than herself."
ED'S TRIBUTE
Ace songwriter Ed penned the song Nancy Mulligan, on his third album Divide in 2017, about the romance between grandmother Anne, and his grandfather William, who predeceased her.
The requiem Mass heard how the couple got married despite being from different religions.
John said: "Mum met Dad, a dental student, at a nurses' home party.
"Friendship turned into love, but the Northern Ireland Presbyterian side of dad's family did their utmost to end the relationship."
Superstar Ed, 32, went on to pen a song about the love story.
Ed said previously: "Nancy Mulligan is about my grandfather and my grandmother.
"My grandfather is a Protestant from Belfast and my grandmother is a Catholic from Wexford and when they got married it was like a real thing.
"But they went against people, got married and ended up being married for 66 years before my grandfather passed away."
In media interviews, Anne had praised grandson Ed for remaining as down-to-earth as ever despite his stellar success.
She said: "I'll never think of him as being famous, I have to say. He's exactly the same as he always is when he visits.
"And it's very rare because he's always working and when you think he was working from the age of 14, you'd have to feel sorry for him, you know he's so tired but he loved it."
Anne was laid to rest with her late husband William.
Read More on The Sun
Shoppers are going wild for M&S midi dress that's ideal for the Coronation
Here's why you must NEVER pee in the shower – and 4 other habits to avoid
Family members requested donations in Anne's memory to St Aidan's Day Care Centre, Gorey.
The centre provides services for children with special needs, adults with physical and learning disabilities and older people.

Source: Read Full Article