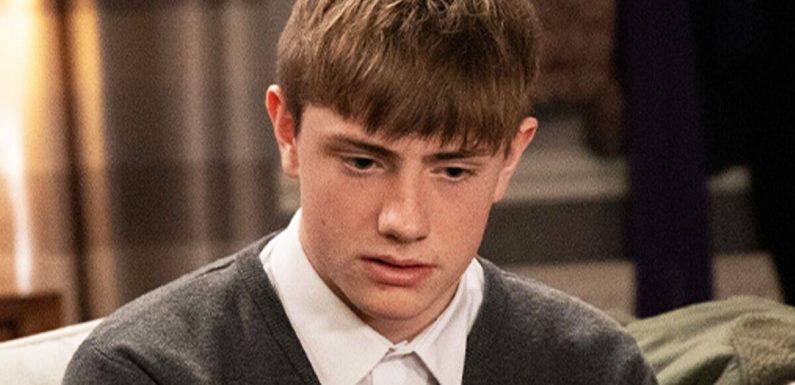 Emmerdale: Marshall revealed to be hiding in Rishi's house
We use your sign-up to provide content in ways you've consented to and to improve our understanding of you. This may include adverts from us and 3rd parties based on our understanding. You can unsubscribe at any time. More info
Emmerdale newcomer Marshall Hamston (played by Max Fletcher) recently rejected his love interest Arthur Thomas (Alfie Clarke) on the ITV soap. The character is unsure of his sexuality and having a homophobic father has complicated matters for the teenager. On Thursday's episode of the serial drama, Marshall rejected Cathy Hope (Gabrielle Dowling) but fans are concerned she may become his "stalker".
Cathy wanted to attend a concert with Marshall but her father Bob Hope (Tony Audenshaw) was not keen on the idea.
Wendy Posner (Susan Cookson) said: "We thought he was involved with Arthur."
Cathy snapped back: "So what if he was? God, you are so old – he could be bi-sexual.
"Yeah, you haven't considered that, have you?"
Cathy told Bob she "didn't want to be locked away" and he eventually backed down to let her go to the gig.
Meanwhile, Marshall told Laurel Thomas (Charlotte Bellamy) his father had been confusing him about his sexuality.
Marshall explained: "[My dad] said, 'How do I know I don't like girls if I have never kissed one?'"
Laurel, who is looking after Marshall following a fallout with his dad, fumed: "That's really damaging, I need to go and see him."
Later on, Marshall plucked up the courage to tell Cathy he had "gone too far" and didn't want to go on a date with her.
However, when he told her he did not fancy her, she thought he was just "playing hard to get".
Marshall headed back to Laurel's house and had a heart-to-heart with Arthur about the situation.
Arthur said: "Just don't worry about it, everything is going to turn out OK, you can't help who you are."
Don't miss…
Emmerdale's Leyla to 'exit in a taxi' as star drops hint after attack[INTERVIEW ]
Emmerdale's Paddy Kirk moves out of Woolpack[SPOILER ]
Emmerdale fans 'expose' Caleb Milligan's link to drug dealer Callum[LATEST]
Following the episode, Emmerdale viewers took to Twitter as they feared Cathy might not let Marshall out of her sight.
Teena Massam penned: "I hope Cathy's not going to turn into Marshall's stalker… #emmerdale."
Simon Ramsay shared: "Oh God, Cathy said 'he's just playing hard to get.' She's being beyond naive! I'm glad Marshall was honest. She needs to get it into her head #emmerdale."
Referring to Daisy Midgeley's stalker on Coronation Street, @FussyMcWhiskers added: "#Emmerdale So Cathy is going to become to Marshall what Justin is to Daisy…"
50 Years Of Emmerdale: The official story of TV's most iconic rural drama
Everything you need to know about the iconic rural drama can be found in this beautifully designed book, packed with history, long-lost photographs, and plenty of behind-the-scenes details.
Ben Powell remarked: "Marshall doesn't want to kiss her, it's Arthur he wants, bless him, he looks scared to death #heartstopper."
Matthew Chapman commented: "Take cover, Marshall! Cathy's about to blow a gasket again!"
A concerned Michael Marshall theorised: "#Emmerdale Is Cathy going to say Marshall attacked her?"
Emmerdale airs on weeknights at 7.30pm on ITV and ITVX.
Source: Read Full Article