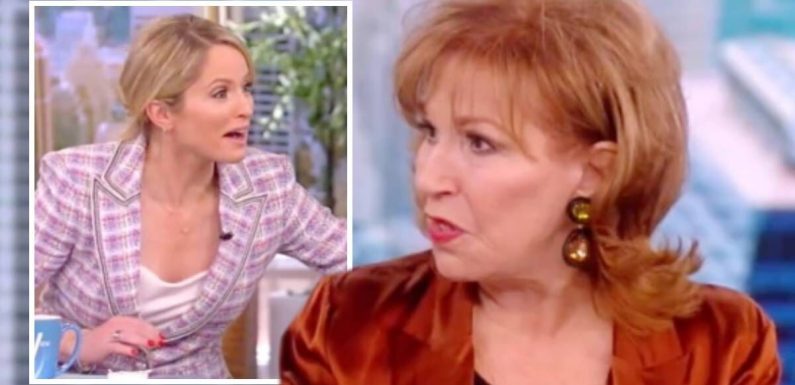 The View: Awkward moment with Joy Behar as she snaps
We use your sign-up to provide content in ways you've consented to and to improve our understanding of you. This may include adverts from us and 3rd parties based on our understanding. You can unsubscribe at any time. More info
Joy Behar was involved in another on-air swinging match with a co-host on ABC's The View as she clashed with fellow panellist Sara Haines. She was interrupted while discussing one of the show's topics before firmly asking Sara "can I finish?".
The awkward encounter occurred on Thursday's episode of the daily talk show as the group talked about the "benefits of friendship detoxes".
Whoopi Goldberg introduced the show's segment before the other presenters weighed in, airing their thoughts on the matter at hand.
Alyssa Farah Griffin was the first to speak, telling viewers that she's had plenty of experience terminating friendships due to a number of reasons.
She put it down to her former pals not "adding enough value" to her life.
It was at that point that Joy perked up, telling viewers she could relate to what Alyssa was saying about losing friends.
She quipped about friends who "don't spark joy" while explaining she "Marie Kondo's them", making reference to the organising consultant.
Joy paused while the audience laughed at her quick-thinking joke, seemingly leaving the floor open for discussion.
After the brief silence, Sara went to add more to the conversation after clearly assuming that Joy had finished speaking, due to her silence.
When Sara started speaking, Joy quickly shut her down, adding: "Can I finish?" before laughing in her co-host's face.
"There was more? I thought it was a joke!", a confused Sara added after Joy made her remark.
"It was a joke, but it had truth to it," Joy explained.
In a bizarre U-turn, Joy then stated that she "had nothing else to say", before letting Sara speak.
Don't miss…
Beyond Paradise taken off air in BBC schedule shake-up[LATEST]
The View fans demand show 'fix issues' after technical problems[LATEST]
Whoopi Goldberg apologises after using 'offensive' slur on The View[LATEST]
Viewers reacted on social media after watching the awkward moment play out live, with one saying Joy appeared "very angry".
User @gramfurn wrote on Twitter: "Joy saying 'Just let me finish' after she [got] cut [off by Sara]! I'm sure it wasn't intentional."
While @Greco19Peter added: "They need to cancel Joy. Why do they get away with talking like that?"
Account @MrsMGMRed added: "I can tell you this.. I saw Joy B. on the view she was very angry."
After the moment @marilyncole5 said: "I've almost stopped watching the entire channel because of this show. I don't think about turning it on anymore."
It comes after host Whoopi was forced to apologise in a video shared by The View after she made an "offensive" remark this week.
"You know, when you're a certain age, you use words that you know from when you're a kid or you remember saying," she said.
"And that's what I did today, and I shouldn't have."
The View continues weekdays on ABC in the USA.
Source: Read Full Article