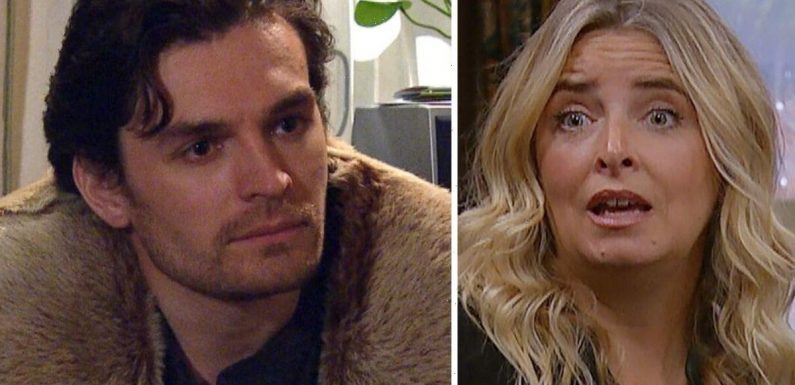 Emmerdale: Mackenzie receives call from mystery person
We use your sign-up to provide content in ways you've consented to and to improve our understanding of you. This may include adverts from us and 3rd parties based on our understanding. You can unsubscribe at any time. More info
Emmerdale fans have been desperate to know who Mackenzie (played by Lawrence Rob) recently had a one-night stand with despite being in a relationship with Charity (Emma Atkins). The pair recently lost their baby, which saw Charity pull away from Mack and their communication begin to lack. Since the incident, he has been guilt-ridden but desperate to keep the mystery woman under wraps.
However, official spoilers reveal that his lover will soon be set to be exposed and will leave Charity heartbroken.
In upcoming scenes which will air next week, after a few beers, Mack becomes upset when a drunken Nate Robinson (Jurell Carter) makes an ill-timed joke about his affair.
The pair are put on the spot when Ryan Stocks (James Moore) senses something isn't as it seems and orders them to explain what happened.
Eventually, after some persuasion, Ryan squeezes out the truth of the fling from Mack and is stunned at the news.
Processing the news, Ryan is deadly serious when he tells Mack that he needs to tell Charity the truth about what happened, trapping Mack in a corner.
The next day, Mack worries how he'll be able to tell Charity the truth and threatens to fight back any accusations, leaving Ryan to give in.
Mack's left relieved when he realises that Ryan isn't going to expose his affair, but he can't be safe for long.
As more time goes on, Ryan struggles with keeping Mack's secret, especially since the pair have been getting their relationship back on track.
Mack's left shaken even more when he gets a call from his one-night stand out of the blue and heads off to deal with the situation.
Far away from the village and the eye of Ryan and Charity, Mackenzie's on edge as he awaits his secret meeting.
Mack's one-night-stand finally appears and is revealed but who could it possibly be?
How will Mack deal with the situation if the mystery woman decides to blackmail him, with the promise of keeping their secret in return?
Will he be able to shut down the threats of exposure? Or will he have to bite the bullet and reveal the truth to Charity before it is too late?
Since the night of the one-night stand, many fans have been theorising who they think could be the one who bedded Mack.
Some have thought it could have been Noah Dingle's (Jack Downham) ex-girlfriend Chloe Harris (Jessie Elland).
Taking to Twitter, Emmerdale fan Pete Leo commented: "Chloe's ringing Mack #Emmerdale. My money is on her."
TV Juice remarked: "It's clearly Chloe, you have seen her arm and her nails but it's weird that after being stalked by Noah she is now stalking Mack." (sic)
However, others have thought it could be Belle Dingle (Eden Taylor-Draper) with Twitter user Hasan Hussain theorising: "As much as I hate Al and what he and Chas have been doing behind Paddy's back if it turns out that Belle was the one with Mack then that makes her bad if not worse!"
He added: "After seeing the last scene it reminded me of how Belle was the one who set the itinerary for Mack and Charity….maybe she's the one he was with?"
Michelle Jone said: "My guess is Belle or Chloe with idiot Mack #Emmerdale."
"God knows who Mack has copped off with. Probably Chloe as we actually saw her face tonight. It better not be Belle after she's JUST told Chas how awful cheating is," Jess tweeted. (sic)
Emmerdale airs Monday-Friday from 7.30pm on ITV.
Source: Read Full Article