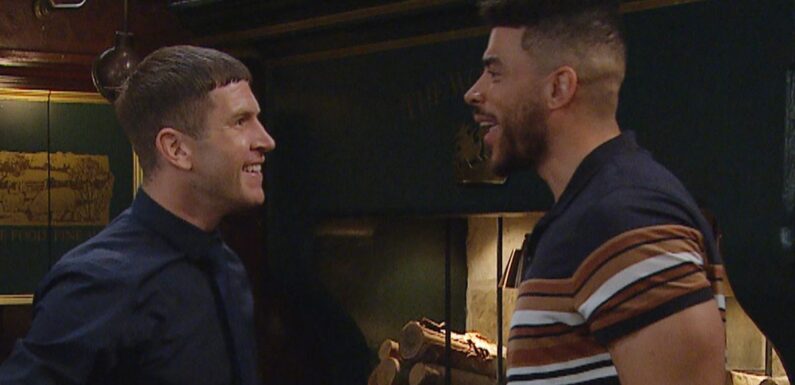 Emmerdale star Kyle Rowe makes his debut as newcomer Corey in upcoming scenes.
The mystery character is an old school friend of Nate Robinson (Jurell Carler) who is working with Caleb Milligan (Will Ash).
Soap fans may recognise actor Kyle from his other roles in rival shows.
READ MORE: Emmerdale Dan Spencer's future 'sealed' as actor Liam Fox teases 'some changes'
In 2018, he played Ethan Corrin in two episodes of Coronation Street.
Kyle also took on the role of Hue in EastEnders for one episode in 2019 as two years later he appeared as Kai Southcliffe in Doctors.
In the village, Cain Dingle (Jeff Hordley) is encouraged as he and Corey agree to a business deal with the garage.
Arriving Nate's surprised and happy when he recognises Corey from school.
Nate enjoys a pint with his long lost mate but he's embarrassed when Charity Dingle (Emma Atkins) asks if he still wants Eve's hand me downs.
Moira Dingle (Natalie J Robb) confirms she slept easier after taking Caleb's loan but Cain's annoyed when Nate refuses extra work – Nate leaves, clearly up to something.
Later, a nervous Nate begs Corey for a job but is left disappointed when Corey tells him he can't help him with any work.
At the farm, Nate and Mackenzie make amends before raiding Moira's kitchen. Both are left glad there's no hard feelings.
Arriving later at the garage, Mackenzie's chuffed when Cain lets him help with his new fleet of cars.
Meanwhile, in the pub, unimpressed Caleb ends a hushed call.
Brooding Cain enters and pays Caleb his first instalment on their loan and Caleb watches him leave with sadness, secretly wishing there was more he could do.
Outside, smiling Tracy's happy about her induction.
Nate's hacked off to see Mackenzie working at the garage – he heads off, knowing exactly what he has to do.
Corey's face drops to see Nate enter the Office, asking for work.
Caleb's thrown to see Nate there and his cover as a silent investor is blown.
He tries to back track as Nate pieces everything together but Nate's thwarted as Caleb buys his silence.
But soon, Nate threatens to tell Cain everything about Caleb's business unless he gives him a job.
For the latest breaking news and stories from across the globe from the Daily Star, sign up for our newsletter by clicking here
Source: Read Full Article