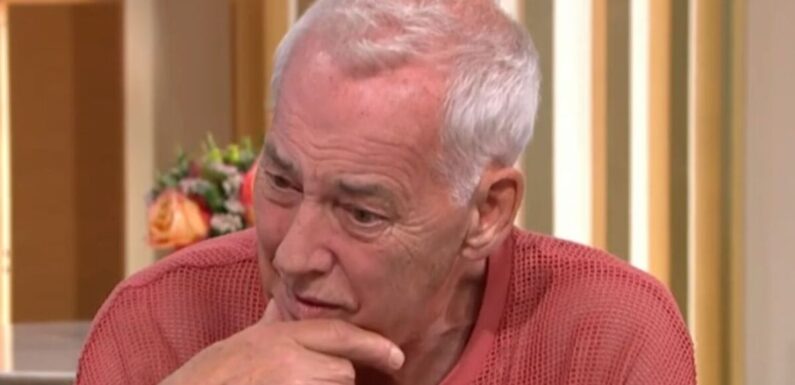 Michael Barrymore causing chaos with Josie and Craig
Michael Barrymore's appearance on This Morning sparked concern among viewers on Thursday after the interview descended into chaos.
Many ITV fans questioned whether the comedian was ok, while others branded the segment a "car crash".
Before the interview had even begun, Michael couldn't resist mocking host Josie Gibson's accent.
As she tried to introduce the TV star, Michael joked about not knowing who she or Craig Doyle was.
She said: "Welcome back still to come, he's a man of many talents and now he's added West End director… Michael Barrymore."
READ MORE Michael Barrymore's TikTok about loss of his career hits 2m likes[LATEST]
"Michael Barrymore," the 71-year-old repeated as he mimicked Josie's Bristolian accent.
As Josie tried to continue, Michael interrupted: "Alison, your accent has changed.
"I wasn't told these two were on, what the hell is going on? I just walked in and I go, 'Who are they?' I know who they are."
"Alright it is my turn now," Josie quipped back. "He's here to talk about his brand new play and his newfound fame on Tik Tok."
As Craig began to talk, Michael went on to mimic the host's Irish accent before they carried out the interview.
Don't miss…
Michael Barrymore's 'confidence was smashed' as he slams TV bosses over axing[INSIGHT]
Michael Barrymore gets standing ovation after 'claiming life back'[VIDEO]
Michael Barrymore 'happier and fitter' after quitting booze as he plans comeback[LATEST]
We use your sign-up to provide content in ways you've consented to and to improve our understanding of you. This may include adverts from us and 3rd parties based on our understanding. You can unsubscribe at any time. More info
However, This Morning viewers took to Twitter in droves to comment on the chaotic segment, with many airing their concern for the comedian.
@yemandeeT shared: "Michael Barrymore on the show is car crash tv #cringey #ThisMorning." (sic)
@peachout23 echoed: "Good lord. Michael Barrymore on #thismorning it's a bit car crash."
@mrkphllps1 stated: "This Michael Barrymore interview is deeply disturbing #ThisMorning."
@KatieYoud went on to say: "This interview with Michael Barrymore is horrendous."
"Can't understand a bleeding word Michael Barrymore is saying," @BetLynchsFag tweeted.
@DAMEMAIR asked: "#thismorning has Michael Barrymore been ill?" (sic)
@LadyElizaDee was thrilled to see Michael back on screens as she said: "So glad to see you Michael, hope you come back on our TV screens soon! #MichaelBarrymore #thismorning."
This Morning airs weekdays at 10am on ITV.
Source: Read Full Article