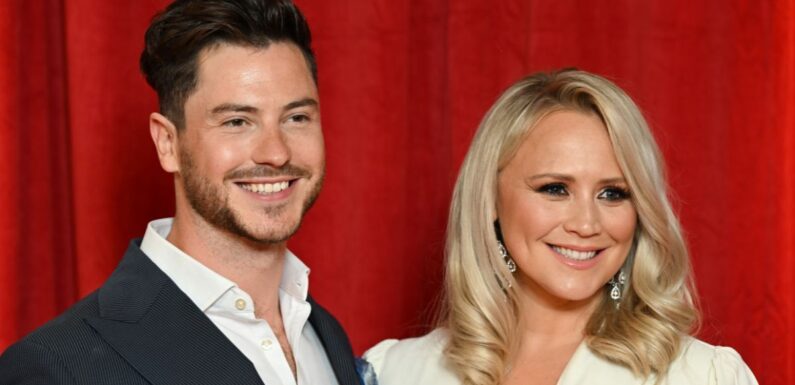 Amy Walsh describes her guilt for leaving children for Emmerdale
Newlywed Amy Walsh has revealed her terminally ill father John had everyone in tears as he gave an emotional father of the bride speech at her recent wedding to former EastEnders star Toby-Alexander Smith.
The 36-year-old Emmerdale star, who plays Tracy Metcalfe, wed 32-year-old Toby-Alexander, who played serial killer Gray Atkins in the BBC soap, in Montenegro in front of friends and family, including her Girls Aloud star sister, Kimberley, 41.
"He wasn't well enough to stand and talk for a long time, but he told an anecdote about when I was little. It had everyone in tears," she revealed.
Because he was so weak, her brother Adam walked her most of the way down the aisle at her stunning alfresco wedding.
He then handed her over to her father who took her the rest of the way to her emotional husband-to-be.
READ MORE: Strictly's Eddie Kadi says he'll accept judges' feedback through 'gritted teeth'
"My dad isn't very well and we weren't sure until the 11th hour if he would be able to come," she told OK Magazine.
"My brother handed me over to my dad, who walked me down the last bit.
"He knows he only has a certain amount of time left, so it was important for him to be there.
"It's a cancer you can't cure, but you can live with it and he's doing well fighting it," she intimated.
Amy and Toby-Alexander first met while they were both in the audience of Strictly Come Dancing in 2019.
Don't miss…
Emmerdale fans 'work out' Gail's link to a past character[OPINION]
EastEnders fans 'work out' heartbreaking health twist for Alfie Moon[OPINION]
Emmerdale's Nicky actor pays tribute to 'brilliant' on-screen dad Caleb[INSIGHT]
We use your sign-up to provide content in ways you've consented to and to improve our understanding of you. This may include adverts from us and 3rd parties based on our understanding. You can unsubscribe at any time. More info
However, it was to be a year later before they actually started dating. In December 2021 they welcomed their first baby together, a daughter named Bonnie.
In June this year Amy admitted to struggling leaving the tot when she returned to work on Emmerdale.
"The hair and make-up team are like sisters to me. I've cried a few times in the make-up chair out of pure exhaustion or dropping my child off at nursery," she revealed to press including Express.co.uk.
"I went in in tears, and they were like, we won't do your face first, we'll do your hair. I thought I used to be tired, I always complained about being tired before, but now I'm like, 'how am I doing this?'
"It's hard, I'm not gonna lie, but that's because my child isn't sleeping at the moment," she said.
Emmerdale airs weeknights on ITV at 7.30pm.
Source: Read Full Article