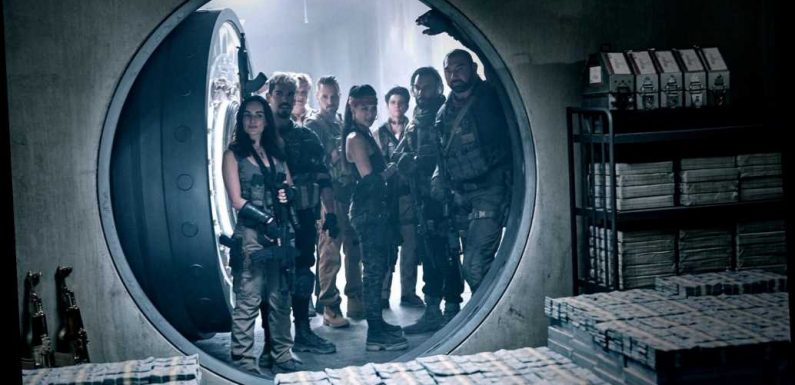 Zack Snyder's second stab at a zombie movie is almost here.
The Dawn of the Dead director is taking on Army of the Dead for Netflix, with the horror film coming out this summer.
The movie's summary says it follows a zombie outbreak in Las Vegas, after which a group of mercenaries take the ultimate gamble, venturing into the quarantine zone to pull off the greatest heist ever attempted.
In first look images, Snyder is seem directing the cast, which includes Dave Bautista, Ella Purnell, Omari Hardwick, Ana De La Reguera, Theo Rossi, Matthias Schweighöfer, Tig Notaro and more.
RELATED: Zack Snyder Returns to Movies After Stepping Away from Justice League Due to Daughter's Suicide
The director gave an amusing preview to Entertainment Weekly about what fans can expect from the movie.
"It is a full-blown, balls-to-the-wall zombie heist movie, so it's genre-on-genre in a great way," said Snyder. "So you expect pure zombie mayhem, and you get that, 100 percent. But also you get these really amazing characters on a fantastic journey. It's going to surprise people that there's a lot of warmth and real emotion with these great characters."
While star Batista said he signed on to the role as it was deeper than he expected, he also made sure to emphasize what a fun watch it'll be.
"We're running around killing zombies on craps tables," Bautista said. "It's just a ton of fun." 
The film is slated to hit the streaming platform this summer. Before then, Snyder will see his anticipated director's cut of Justice League land on HBO Max. Zack Snyder's Justice League begins streaming on HBO Max in March.
Never miss a story — sign up for PEOPLE's free daily newsletter to stay up-to-date on the best of what PEOPLE has to offer, from juicy celebrity news to compelling human interest stories.
Source: Read Full Article