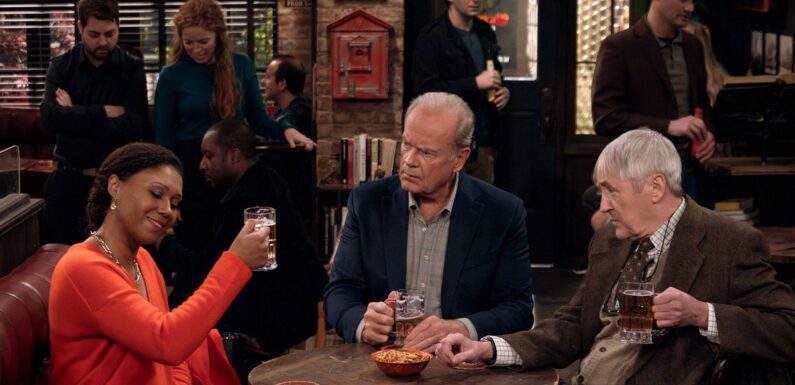 A first look at the reboot of the popular comedy series Frasier shows Nicholas Lyndhurst drinking pints of beer in a bar with Kelsey Grammer.
Paramount+ announced on Tuesday that the new show, with Grammer reprising the titular role as psychiatrist Dr Frasier Crane, has been given an air date in October.
Only Fools And Horses star Nicholas is set to play Frasier's old college friend-turned-university professor Alan Cornwall, as he joins the 10-episode season.
The new series sees Frasier return to Boston, where the character had originally appeared on the American sitcom Cheers, with "new challenges to face, new relationships to forge and an old dream or two to finally fulfil".
In 1993, Frasier had his own spin-off Seattle-based show, which ran until 2004, and also previously starred Jane Leeves as Daphne Moon, David Hyde Pierce as Dr Niles Crane and Peri Gilpin as Roz Doyle.
Often mentioned in the original series, Frasier's son Freddy has been recast in the Paramount+ show with Deception star and British actor Jack Cutmore-Scott joining the show.
A new character Olivia (Toks Olagundoye), Alan's colleague and head of the university's psychology department, has also been created.
In new images, Toks' character is seen having a drink with Frasier and Alan, and in another picture, the psychologist-turned-radio host sits on a couch with his son.
Also joining the show is The Expanse star Jess Salgueiro as Freddy's roommate Eve and Anders Keith as Frasier's nephew David.
A teaser for the show also has a new recording of the show's original theme song, Tossed Salads & Scrambled Eggs, and a promise that there are "no more callers" but "all-new hang-ups".
Carol Vorderman has shared her excitement at the new series, as she tweeted: "Rodney's in the new Frasier…. I'm here for it Frasier….my favourite show of all time….Well, I watch 2 a week…..and I still roar laughing. Can't wait."
The excitement is building throughout the world, and fans have been tweeting to share their feelings about the new series.
One fan said: "Intrigued and excited for this – especially as I rewatch Frasier all the time."
While another wrote: "So excited for thisss! One of my top 5 shows."
During its run, the original comedy picked up a host of awards and won widespread critical acclaim, with Grammer winning Emmy, Golden Globe and Screen Actors Guild awards for his role in the show.
The series has 37 Emmys from 107 nominations overall.
Filmed in front of a live studio audience at Paramount Studios in Los Angeles, the show will begin airing on Paramount+ on October 12.
Source: Read Full Article