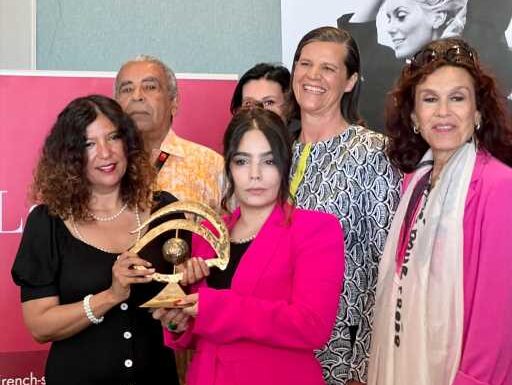 Two films by Arab women directors are sharing the L'Oeil d'or (Golden Eye) prize for the best documentary in Cannes. Four Daughters (Les Filles d'Olfa) by Tunisian filmmaker Kaouther Ben Hania and The Mother of All Lies (La Mère de tous les mensonges) by Moroccan filmmaker Asmae El Moudir were announced as the winners at a joint ceremony this morning at the Palais in Cannes.
"It's huge," Ben Hania told Deadline after the announcement. "I'm very happy and I'm also very happy to share this prize with Asmae from Morocco. And I think that it means something for the region, for the storytellers, for us women directors… It's so special."
Related Story
Ken Loach On Whether 'The Old Oak' Is Really His Final Film: "One Day At A Time" – Cannes
Both Ben Hania and El Moudir were on hand for the presentation at the Salon des Ambassadeurs. It the second prize in two days for El Moudir. On Thursday, she won best director in the festival's Un Certain Regard section.
"It's really important for my career. Especially, because I did this film with my family, with my parents, who are here, and my grandmother who is 85 years old," El Moudir told Deadline. "I give everything for this film since 2013. I grew up with this project."
In The Mother of All Lies, El Moudir takes an unflinching look at her own family.
"In a bid to explore her past, the young woman creates a model of the Casablanca neighborhood where she grew up, and begins investigating her parents' and grandmother's pasts," the Cannes Film Festival writes. "Sifting back through her childhood, the filmmaker unravels Morocco's political and social history."
The L'Oeil d'or award automatically qualifies both The Mother of All Lies and Four Daughters for Oscar consideration. The Mother of All Lies came into the festival without distribution, with sales agent Autlook banging the drum on its behalf. El Moudir said the two prizes will help the cause.
"I think now lot of distributors will come back looking for this film," she noted. "For this orphaned film, he will have a father or mother."
The Party Film Sales is handling distribution efforts for Four Daughters, one of two documentaries this year to earn a coveted spot in main competition. The film centers on Olfa Hamrouni and her children – the titular four daughters. The eldest two disappeared from Tunisia as teenagers, with evidence pointing to them being swept up into ISIS. The director made the unusual choice to hire actors to play the missing daughters in the documentary, as a means of exploring the family's trauma.
"When you think about the past in general, in classical documentary, you think about reenactment, and I hate reenactment. So I told myself, it's such a cliché, I will hack it," Ben Hania explained. "The main idea was to insert cinema tools in the film to have a global vision, more kaleidoscopic vision for such a complex topic, such complex life, such complex characters."
RELATED: 'Four Daughters' Review: Kaouther Ben Hania's Cannes Documentary Uses Reenactments To Portray Tunisian Family's Islamist Nightmare
The L'Oeil d'or jury was presided over by Oscar shortlisted filmmaker Kirsten Johnson (Cameraperson, Dick Johnson Is Dead).
"When you see two films — work that has taken years and years and has pushed into territory that is very closed — you really want to give two prizes," Johnson told Deadline. "These two films… both enter these worlds of families that have a lot to protect themselves by keeping quiet."
The L'Oeil d'or prize, first presented in 2015, was created by LaScam, the French society of multi-media authors, in cooperation with the Cannes Film Festival. It comes with a €5,000 prize (each of this year's winners will receive the full €5,000, it was pointed out at the ceremony).
Last year's L'Oeil d'or winner, All That Breathes, went on to earn an Oscar nomination for Best Documentary. Previous L'Oeil d'or laureates Faces Places (Visages Villages) and For Sama also earned Academy Award nominations, which could augur well for the Oscar prospects of The Mother of All Lies and Four Daughters.
Must Read Stories
Live-Action Pic Singing Loudly With $125M Memorial Day Weekend Bow
Wild Jane Fonda Presser; 'La Chimera' Premiere & Review; Un Certain Regard Winner
Max Credits Snafu Could Take Weeks To Fix; Execs Didn't Know Until After Launch
'Shrinking's Jason Segel Reveals His Influences: The Film That Lit My Fuse
Read More About:
Source: Read Full Article