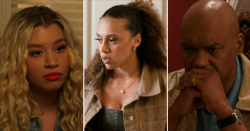 The truth about Rose Knight's disappearance has sent shockwaves through the Knight family in EastEnders, with recent scenes revealing eldest sister Gina's (Francesca Henry) reaction to the painful truth.
George Knight (Colin Salmon) recently discovered that wife Rose had actually never existed. Viewers were soon treated to the knowledge that she is actually Cindy Beale (Michelle Collins), who assumed the identity after being put into witness protection, though the Knight family are still completely in the dark.
With Anna (Molly Rainford) having overheard a conversation between her dad and new partner Elaine Peacock (Harriet Thorpe), she was soon let in on the secret, but was given strict instructions to keep it from sister Gina.
Struggling with her guilt, Anna hinted that she knew something about her mum, but when Gina insisted that she didn't want to hear it, Anna decided once again that it was best she didn't know.
However, the very mention of Rose Knight started the cogs whirring in Gina's brain, and she found it impossible to put thoughts of her mother out of her head.
To view this video please enable JavaScript, and consider upgrading to a webbrowser thatsupports HTML5video
A conversation in the chippy with Bobby Beale (Clay Milner Russell) only piqued her curiosity further.
Bobby revealed how he was trying to get in contact with his brother, Peter (Thomas Law) – who, unbeknown to Gina, is actually her half-brother – but was no longer receiving any replies to his messages.
As Gina suggested that he may be better off being 'ghosted', as what he doesn't know can't hurt him, Bobby hit back by pointing out that the not knowing does hurt.
It was clear Bobby's words were playing on Gina's mind, as she headed back to the Queen Vic demanding answers from Anna.
Not wanting see Gina go off the rails, Anna insisted that she had got the wrong end of the stick, leaving Gina more determined to find out the truth than ever.
With Anna and George both nowhere to be seen, Gina confided in Elaine, who finally relented and revealed all.
As Gina struggled with the news, Elaine assured her that Rose must have had a good reason for lying about who she was, though this didn't do much to comfort devastated Gina.
Determined to drown her sorrows, Gina headed to Peggy's, where she immediately started throwing back the booze.
However, things soon escalated as she made a sly transaction with a man she had approached, after being turned down by Keanu Taylor (Danny Walters).
Luckily, it wasn't long before George and Anna had tracked her down and dragged her back home, determined to sober her up.
It soon became clear that Gina had taken cocaine, leaving George seriously worried that she was heading down a dark path.
As conversation turned by to Rose, Gina revealed that she had been blaming herself for her disappearance, which left George heartbroken as he let slip that if anyone was to blame it would be him.
Though Gina wanted to drop the subject entirely, Anna demanded to know what he meant, and George was forced to reveal what had happened on the night that Rose left.
He revealed that he had found her packing a suitcase, having already taken money from the safe, and told her that if she left he would never take her back again.
Horrified, Anna and Gina fled the pub, leaving George heartbroken and sure that they would never forgive him.
Has George lost his daughters for good?
Source: Read Full Article