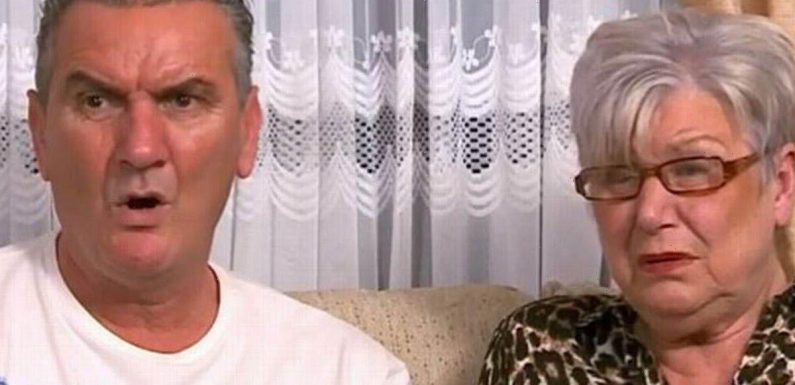 Gogglebox cast react to couple having sex via virtual reality
We use your sign-up to provide content in ways you've consented to and to improve our understanding of you. This may include adverts from us and 3rd parties based on our understanding. You can unsubscribe at any time. More info
Gogglebox debuted on Channel 4 10 years ago. Now in its 21st season, many cast members have come and gone but Lee Riley and Jenny Newby are two of the longest-standing members, and fan favourites.
The pair have been 'Goggleboxers' since 2014 but when Lee first joined the show he didn't think they would be on it for long.
He shared: "We said, we'll do it for six weeks, we'll have a jolly. Nine years later we're still doing it."
Lee appears on Gogglebox alongside best friend Jenny Newby and the pair met two decades ago in Yorkshire.
Jenny was the landlady of the Crown Pub in East Riding and Lee was a regular customer.
They may seem like professional television stars now but Lee insists this was not always the case.
The pair had an unorthodox way of trying to relax before filming.
Lee revealed to The Guardian: "We used to have a vodka to calm our nerves."
But he doesn't feel that way now, as he added: "After a year or two, you don't see the cameras or lights. You just get on with it."
Lee and Jenny film their Gogglebox scenes from Lee's caravan in Hull.
Despite not seeing each other very often the cast members of Gogglebox are still close.
Lee said: "Even though we don't see each other, which is really weird, because we all live up and down the country … it's still like a family."
Jenny previously explained how the pair met, telling the Big Issue: "He became a regular in 1994 and used to come in pretty much every night with his partner and we were friends from the off. We've been best friends ever since."
Don't miss…
Sam Claflin 'couldn't stop crying' filming Daisy Jones and the Six [LATEST]
Celebrity Gogglebox star 'sacked' from series after complaint[INTERVIEW]
Gogglebox's original name was 'hated' by bosses[INSIGHT]
It's good that Jenny and Lee are best friends as they must watch up to twelve hours of television a week for Gogglebox, selected by the producers.
During lockdown, the pair even chose to self-isolate together for nine weeks so they could safely film the show, meaning they were unable to see their partners.
Lee has been with his partner Steve for 26 years and Jenny is married to husband Ray, but both prefer to stay out of the spotlight.
Lee and Jenny have had many funny moments on Gogglebox over the years, including Jenny attempting to identify 'H' in Line of Duty and Lee accidentally eating Jenny's face cream as a dip.
They never seem to stop laughing, with Lee commenting: "I don't think we've ever had an argument.
"We're too placid to argue. She makes me laugh too much for me to ever fall out with her."
Despite the seemingly simple format of people on TV watching TV, Gogglebox has won numerous awards over the years including two BAFTA TV Awards for Reality and Constructed Factual Programme in 2014 and 2022, showing it is as successful now as it was in its infancy.
Ex-Gogglebox family members Steph and Dom will return for the upcoming Anniversary Special.
Gogglebox 10 Year Anniversary Special airs on Channel 4 on March 11 at 9pm.
Source: Read Full Article