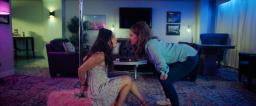 EXCLUSIVE: Ahead of TIFF, Concourse Media has sold North American and UK rights on the adventure comedy Good Egg, starring Jane The Virgin actor Yara Martinez, to Vertical.
Written and directed by Nicole Gomez Fisher (Sleeping with the Fishes), the pic follows a warmhearted schoolteacher, played by Martinez, who inadvertently gets plunged into a dangerous scheme by her suspicious IVF egg donor, played by Andrea Londo (Narcos). As the thrilling escapade unfolds, Yara and her husband, played by Joel Johnstone (The Marvelous Mrs. Maisel), must outsmart their criminal pursuers amidst escalating chaos.
Related Stories
Breaking News
Hero Fiennes Tiffin, Thomasin McKenzie & Katherine Waterston To Lead Jimmy Carr-Penned Spoof 'Fackham Hall'; Veterans Launches Sales With Bleecker Street Aboard For U.S. – Toronto
Breaking News
AC Independent & Goodfellas Launch Burhan Qurbani's 'No Beast. So Fierce' About Richard III-Style Female Gangster – Toronto
The film was produced by Fisher alongside Dorottya Mathe and Martinez. Martinez and Londo star alongside Priscilla Lopez (Maid in Manhattan), Joseph Melendez (Ozark), and Sharinna Allan (Billions), alongside Johnstone, Nick Creegan (Law and Order: Organized Crime), Haas Manning (Blue Bloods) and Nicholas Cirillo (Outer Banks). The film is set for a November release.
"Releasing a movie with a Latinx cast that explores the journey of invitro fertilization is not just a celebration of life, but a testament to the power of diverse storytelling. We look forward to bringing Good Egg to audiences this Fall," said Vertical SVP of Acquisitions Tony Piantedosi.
Concourse Media CEO Matthew Shreder — who negotiated the deal on behalf of the filmmakers — added: "As the strikes press on, we're glad to be able to support independent films during this time. Good Egg is an entertaining and heartfelt film, and we're thrilled to have Vertical on board."
Concourse Media will continue international sales in Toronto this week.
Must Read Stories
WBTV Suspends Top Overall Deals With Greg Berlanti, Bill Lawrence, Mindy Kaling & Others
Jeff Nichols On The Sexual Tension At Heart Of 'The Bikeriders' Movie
Fiennes Tiffin & More Set For 'Fackham Hall', Bleeker Inks U.S.; Latest Toronto News
Faces Class Action In Carriage Dispute; Disney Touts Hulu Live TV Subs; Zaslav Weighs In
Read More About:
Source: Read Full Article