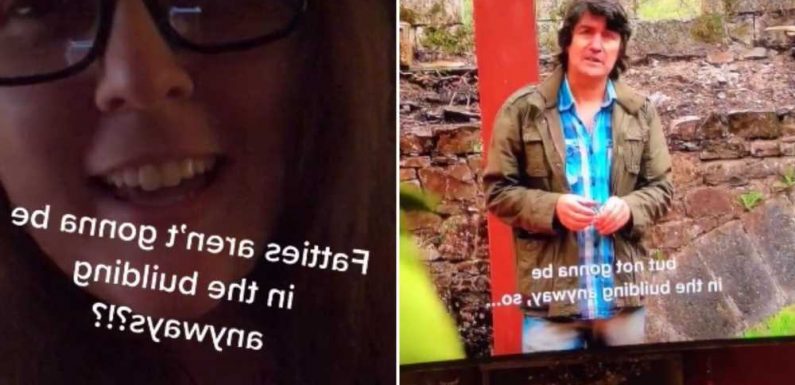 A CLIP from Grand Designs has left fans stunned after the homeowner made a brutal comment.
The Channel 4 property show, fronted by Kevin McCloud, regularly features beautiful and breathtaking homes that have undergone a myriad of transformations.
However one direct homeowner has proved a talking point after a clip from his episode of the show was uploaded to TikTok.
In the clip, one viewer was left questioning whether they had correctly heard the brutal remark issued by the homeowner.
As Kevin discusses the property with him, dubbed a 'castle', he expresses concern about the length of a walkway whilst stood atop an unfinished second level.
Despite Kevin offering up some advice. the owner swipes back and says: "I don't really see a problem."
Read More on Grand Designs
Inside Grand Designs 'garden house' with disappearing walls & incredible roof
Inside plush £4million Grand Designs home that 'looks like an Apple shop'
He continues: "Okay, fatties might have a problem walking down here but there not gonna be in the building anyway, so."
Kevin laughed as he was taken aback by his direct comment as the owner added: "I still think I'm right."
Sharing the clip to TikTok, the viewer was left shocked and stunned at what she had heard.
She flipped the camera to reveal herself as she repeated the word he had said, in shock.
Most read in TV
Sharon Osbourne reveals the name of daughter Kelly's baby boy
EastEnders fans spot clue that proves who the dad of Lily Slater's baby is
ITV dating show axed after just one series
Ken Block was beloved on Top Gear & we are all going to miss him, says Hammond
The TikTok user said in a piercing tone: "Fatties? What?"
The episode originally aired back in 2012.

Source: Read Full Article