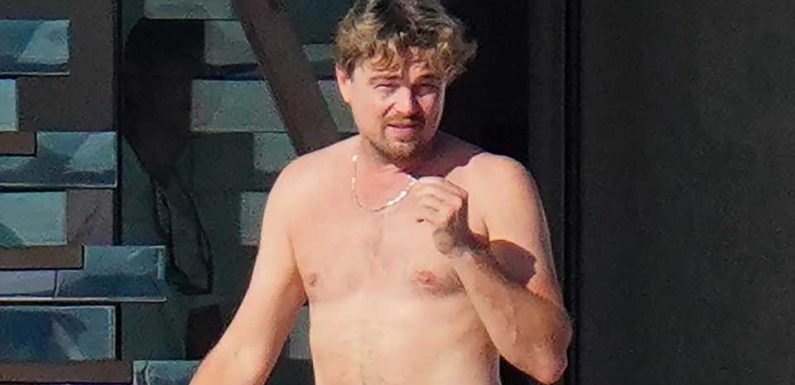 LEONARDO DiCaprio has been spotted going shirtless on a luxury yacht with two bikini-clad women amid a new romance.
The Hollywood actor – who is best known for his role as Jack in Titanic – revealed his body as he soaked up the sunshine.
Leo, 48, put his figure on display as he enjoyed a luxury yacht trip off the coast of the Caribbean island Saint Barthélemy.
He rang in the New Year alongside pal Tobey Maguire last weekend, and has since been enjoying the sunshine.
The actor donned just a pair of blue swimming trunks as he went shirtless on one of the sprawling decks.
He accessorised with just a silver chain necklace as he left his brunette hair messy, sporting a light stubble.
read more on leonardo dicaprio
Film icon Leonardo DiCaprio, 48, dating model, 23, born TWO YEARS after Titanic
Titanic behind-the-scenes secrets – including spiking which put 50 in hospital
The Wolf of Wall Street star then took a dip in the crystal waters, where he was seen slicking his hair back over his head.
He was joined in the water by two women, both in tiny bikinis, as he chatted with his friends on the boat.
Among them were Madison Headrick, the fiance of Leo's close pal Joe Nahmad, who donned a tiny floral bikini.
While the other woman was not clearly identifiable, some fsns have speculated it could be his latest love interest Victoria.
Most read in Showbiz
Jeremy Renner shares pic from hospital bed after snow plough ran him over
Lorraine Kelly reveals she's undergone shock surgery
I felt like I'd been shot after back injury, says S Club 7's Jo O'Meara
Stacey Solomon appears to drop huge hint about baby's gender with scan photo
It comes after the A-list star was linked with model Victoria Lamas, after they were seen together three times in a week.
The Oscar-winner — famed for never dating a woman over the age of 25 — was seen enjoying time with Victoria, 23.
His latest squeeze was born in 1999, two years after Leo's box office smash Titanic was released.
The aspiring actress and model is the daughter of US TV actor Lorenzo Lamas, 64, who played Lance Cumson in 1980s soap opera Falcon Crest.
Victoria's mum Shauna Sand, 51, is an actress and former Playboy Playmate of the Month.
Leo's previous girlfriends include the supermodels Gisele Bündchen and Bar Refaeli and actress Blake Lively. All were 25 or under when with him.
Leo split from Argentine actress Camila Morrone earlier this year, just weeks after she celebrated her 25th birthday.
The Sun revealed in August how Leo and Camila had ended their relationship, with friends saying at the time they had grown apart.
A source added: "There are no bad feelings between them. It just came to a natural conclusion."

Source: Read Full Article