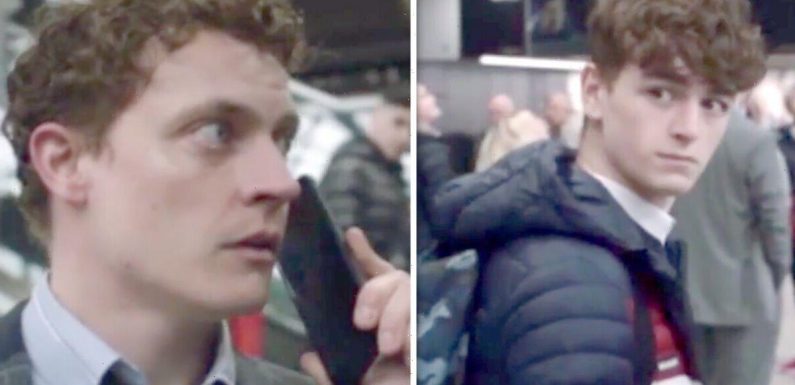 Happy Valley: Lorraine shares first look at thrilling new episode
We use your sign-up to provide content in ways you've consented to and to improve our understanding of you. This may include adverts from us and 3rd parties based on our understanding. You can unsubscribe at any time. More info
WARNING: This article contains spoilers from Happy Valley season 3
Happy Valley fans have been given a sneak peek at the forthcoming episode of the Sally Wainwright series. The clip was broadcast on this morning's (January 27) edition of ITV's Lorraine to whet fans' appetites. The BBC clip was set in the aftermath of Tommy Lee Royce's (played by James Norton) extraordinary escape from Leeds Crown Court.
Journalist Richard Cawood (Derek Riddell) was on the phone to his ex-wife and police officer Catherine Cawood (Sarah Lancashire) to tell her what had happened.
Richard said: "He just climbed out of the dock, this huge perspex screen. He's like Spider-Man.
"Me and some others ran after him but he just vanished into thin air."
The newspaper reporter was with his grandson Ryan Cawood (Rhys Connah) as they were heading home after the botched trial.
Going down the escalator to the train platform, Ryan clocked Matija Jankovic (Jack Bandeira), who unknown to him was a gangster working for the Knezevic family.
However, Ryan had seen him outside the courtroom shortly before Tommy's escape and was suspicious about him.
Matija was on the phone to fellow mobster Ivan Sertic (Oliver Huntingdon) as they discussed another money-making plan.
During his call, Matija told Ivan: "No, there's too much heat, it's a dumb idea."
Ivan told him, while waiting for the bus in Leeds: "It's a brilliant idea. Thirty grand. It would be stupid not to. We've earned it. I've earned it."
But his associate told him: "Look, you're getting married tomorrow. Let's do it after."
Nonetheless, Ivan was persistent and warned the money "would be gone" if they left it any longer.
He added to Matija: "Somebody will find it. So we need to get it back now. Today. As soon as you get back."
Once Ryan and Richard reached the platform, the schoolboy snapped some photos of Matija on his mobile.
Matija unfortunately caught the teen looking at him and appeared concerned, telling Matija: "I'll ring you back."
The clip hints at trouble for Ryan, who could face retribution or revenge from Matija and Ivan for incriminating them.
Both Matija and Ivan were in a desperate situation in Happy Valley after they were given one last chance to redeem themselves by Halifax's godfather Darius Knezevic (Alec Secareanu).
The pair had messed up after a large sum of drug money was left in a flat after cash was coming in too quickly for them to launder with the police all over it.
But with Matija seeing Ryan taking photos of him, the boy could be in more danger than he realises as Richard is likely to pass on the pictures to the police.
Moreover, Tommy had a clear link to the Knezevic family given he was helped to escape and so Ivan and Matija could abduct Ryan.
Fans have also been speculating on social media about Tommy's next move after escaping from the authorities.
Redditor ScandalOZ said: "Is TLR priority to go after Catherine or to hole up somewhere and either kidnap Ryan or simply contact him so Ryan can leave with him?"
While Twitter users also waded in with Peter of Exmouth posting: "No, I reckon he'll kidnap Ryan or coerce Ryan into doing climbing with him. Wait till Catherine finds out."
Jacqueline Hunt said: "TLR will kidnap Ryan and hold at knifepoint when Catherine comes to get him???"
A third user Natalie Brown said: "No, he'll go for Ryan. But Richard at the court is significant. Will he get hurt during the kidnap?"
Happy Valley season 3 airs on BBC One on Sundays at 9pm
Source: Read Full Article