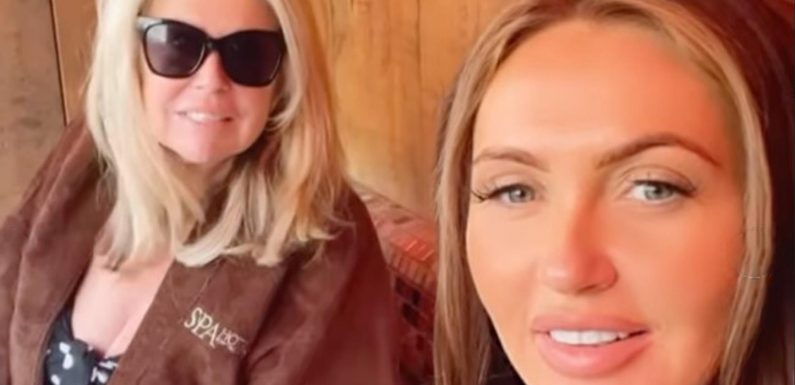 CHARLOTTE Dawson has shocked fans by revealing her mum's age as the women posed in swimwear.
The reality TV star joined her mum for an afternoon of pampering and amazed her follows with glam snaps from the spa day.
The ladies posed beside a pool in one photo with Charlotte's mum Tracy slipping into a polka dot swimsuit.
Charlotte, 32, wore a plunging khaki costume with white slippers.
The TV star captioned the photo: "Fabulous mama & daughter day at the spa 👭 @tracydawsonx sometimes all you need is a mama day!
"I love you so much my trace my best friend always.. your looking amazing and I'm so proud of you, look at you @chazzasbellehblasters smashed my plan.. how is she 72 this year!!!! ❤️ too glam to give a chuffin damn xxxx"
READ MORE ON CHARLOTTE
Charlotte Dawson shares hilarious vid showing off weight loss transformation
Charlotte Dawson says she's 'in agony' after revealing secret miscarriage
Her followers were blown away by Tracy's age and took to the comments section to say so.
"Your mama looks so well for her age ,you look like your mama" one said.
Another penned: "My life goal to look like Tracy in my 70's absolutely beautiful both of you. Xx"
And a third said: "So lovely to see you having time together 🥰 Both looking fabulous! Tracy you haven't changed since I first met you 34 (ish) years ago!!!!"
Most read in TV
Top Gear's Freddie Flintoff puts TV career on hold after car crash
Stacey Solomon poached for brand new show by a huge Hollywood A-lister
Inside Matt & David's plans for new Little Britain including major change
Stacey Solomon reveals new baby's gender – saying 'the boys are so excited'
Celebs Go Dating star Charlotte, who has a son called Noah, is the daughter of the late comedian Les Dawson.
Les was one of Britain's most-treasured comedians, and was diagnosed with type 2 diabetes just before his death from a heart attack in June 1993, aged 62.
Charlotte struggled with gestational diabetes when pregnant with Noah.
She has lost weight since Noah's birth two years ago and said: "I've been so dedicated, because I needed to do this for my son and my family.
"It was really difficult, but [any time I struggled] I would think about my dad. And I've been given the all-clear by the doctors now, which is amazing."
Although Charlotte only decided to lose weight for health reasons, her new physique has made her realise how unhappy she really was being bigger.
"I thought I was happy being 'chunky but funky'," she explains. "But I look back now and honestly my mental health wasn't right when I was that big."

Source: Read Full Article