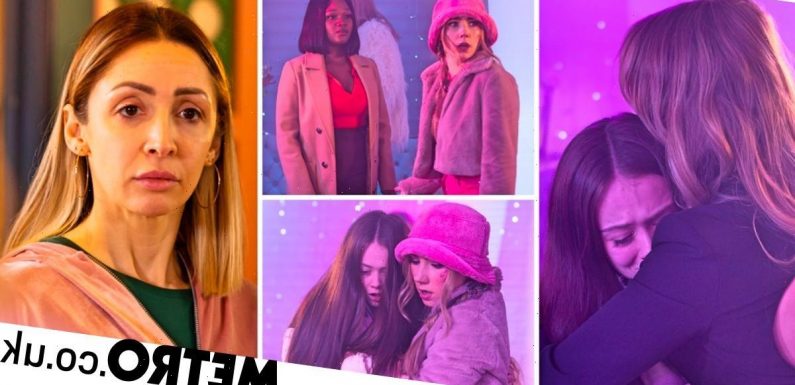 If you're keen to get a first look at next week's Hollyoaks then you're in luck, as we've got a brand new picture gallery, just for you.
The week in question proves difficult for Juliet Nightingale (Niamh Blackshaw), who spirals out of control, much to the horror of girlfriend Peri Lomax (Ruby O'Donnell).
Fed up of everyone constantly fussing over her, the teen – who is battling cancer – decides to head out to party at The Loft with new pals Lacey Lloyd (Annabelle Davis) and Rayne Royce (Jemma Donovan).
Peri, meanwhile, gets wind of what's going on and heads over to The Loft, much to the horror of Juliet, who makes it her mission to keep the party going for as long as she can, but things take a turn when a piece of Juliet's hair falls out.
An altercation ensues, with Zoe Anderson (Garcia Brown) getting accidentally hit by Juliet, who's arrested for her actions!
Following her release from police custody, Juliet gets into a heated argument with Peri, before ultimately opening up, admitting that she's terrified.
After giving it some thought, Jules resolves to cut off her hair.
To view this video please enable JavaScript, and consider upgrading to a webbrowser thatsupports HTML5video
Subsequent scenes see her, with Peri by her side, head to the gym to show mum Donna-Marie Quinn (Lucy-Jo Hudson) and Leela (Kirsty Leigh Porter) her new look.
Donna-Marie, meanwhile, isn't too keen on Leela's couples work out idea – but will they see eye to eye?
Only time will tell.
Hollyoaks airs these scenes w/c Monday February 20 on Channel 4, or see them first from Friday February 17 on E4 and All4. 
If you've got a soap or TV story, video or pictures get in touch by emailing us [email protected] – we'd love to hear from you.
Join the community by leaving a comment below and stay updated on all things soaps on our homepage.
Source: Read Full Article