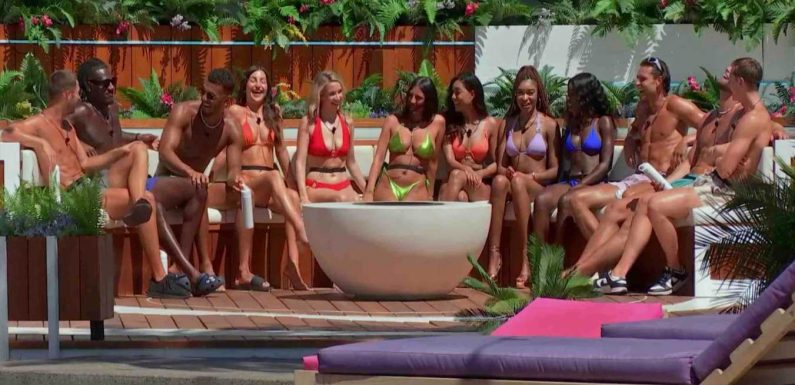 LOVE Island fans were left in hysterics after Kai made a very awkward blunder during last night's episode.
After a long four weeks, everyone's favourite Love Island twist has finally arrived.
Casa Amor was back with a bang as six sexy singletons entered the villa to surprise the boys.
But it was Kai's reaction that had everyone in stitches.
The PE teacher was stunned by the bombshells arrivals and immediately mistook one of the bombshells for a girl called Kim.
Kai explained that he thought the brunette beauty was a girl he knows from his hometown in Manchester.
When the girls entered the villa, He said: "I know her…I think I know her," and then proceeded to shout "Kim" as the women walked over to greet the boys.
Getting a closer look at the new Islanders, it dawned on him that he had made a huge mistake and he whispered: "No, I don't know her…she looks exactly like a girl I know."
Kai's blunder didn't go unnoticed by the boys who later teased him about it.
Farmer Will asked: "I thought you knew someone," to which Kai explained: "She looks exactly like a girl I know."
Most read in Love Island
Love Island fans' horror as teaser sees one contestant grow closer to newcomer
Love Island fans slam Jessie as 'fake' as she shows her 'true colours' in Casa Amor
Love Island fans slam show for 'cheating them' during latest episode
Love Island fans spot FOUR girls that will 'cheat' as Casa Amor returns
Ron then re-enacted the moment, leaving Tom in fits of laughter and telling Kai: "No, you didn't do that, did you?"
Viewers were left cringing and branded it the "most embarrassing moment of the series".
One wrote: "The way he immediately went 'no I don't know her'. OH MY DAYS. How is kai becoming will for me now? This is f***ing hilarious."
Another posted: "The embarrassment in his voice oh my days," while a third said: "The best moment of the episode."
Someone else echoed: "This is so embarrassing I can't."
Another added: "I literally died at this scene. Hilarious."
It comes after fans were left screaming at their TV after three Islanders prepare to 'cheat' after just one day of Casa Amor.
In a preview clip, farmer Will Young, 23, leaned in for a kiss with Casa Amor bombshell Layla Al-Momani.
It came as Olivia Hawkins, 27, was about to smooch Maxwell, a day after she had 'forgotten' Kai Fagan's name.
Meanwhile Casey was seen flirting up a storm with Sanam before going in for a kiss.
Love Island fans flocked to Twitter at the end of Monday night's explosive episode in shock.
One said: "WILL NOOOO."
A second said: "WILL? EXCUSE YOU?! THIS ISN'T YOU."
Read More on The Sun
Job with £460k salary & FREE 4-bed house & no one wants to do it
I moved into a SKIP to save money on rent – it costs just £50 a month
A third chimed in: "Not Will."
Source: Read Full Article