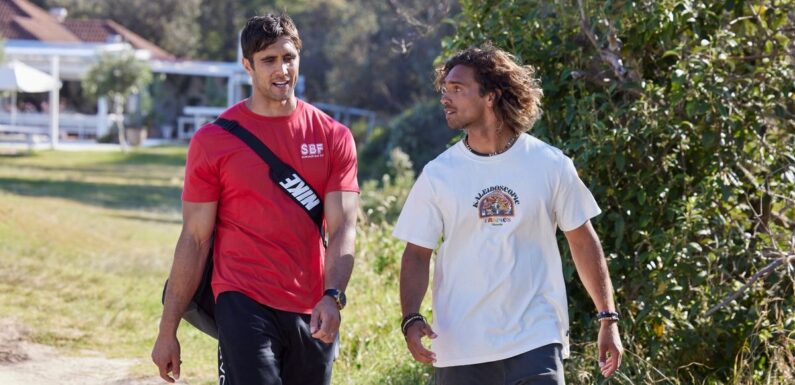 Home and Away star Jordi Webber was already familiar with Tane Parata actor Ethan Browne before joining the soap.
The actor, 29, made his debut as Tane's cousin, Kahu, on Monday (June 5) and has already begun turning heads following his arrival.
Rocking up to Summer Bay, the laidback surfer put a pin in Tane's domestic bliss with new wife Felicity (Jacqui Purvis) and has already started wreaking havoc between the pair.
READ MORE: Home and Away Kahu star's life – music career, Netflix fame and secret past with co-star
As Tane was delighted to see Kahu, their close bond on-screen was perhaps made easier given the pair were familiar with each other beforehand.
Speaking to Stuff, the New Zealand-born star revealed he is also close with the actors who played Tane's brother Ari and nephew Nikau.
"I actually already knew Ethan. I am really good friends with Rob Kipa-Williams and Kawakawa Fox-Reo, so I'd met Ethan whilst catching up with the boys in Oz," he told the publication.
He continued: "We got along, but I didn't know him super well. And then when he and I got to filming we became close which is really cool."
Jordi, who first found fame in 2012 as a member of pop boy band Titanium, admitted he felt the role of Kahu was perfect for him.
"(The producers) wanted Kahu to be super free, super surfy and Māori and, at the time, I was travelling the east coast of Australia, living in a van," the singer explained.
He added: "I fit the bill perfectly in terms of the energy and the person they wanted. That's how I ended up there."
In upcoming scenes, Kahu shows he is all about fun and no responsibilities, which makes his TAFE studies a problem.
Wanting to please his cousin, Kahu agrees to do the course which will enable him to become a qualified fitness instructor at the gym.
After lying to his mum about where he's working, Kahu asks Tane to loan him $1500 TAFE course fees upfront, but Tane wonders whether his cousin can be trusted.
For the latest breaking news and stories from across the globe from the Daily Star, sign up for our newsletter by clicking here.
Source: Read Full Article