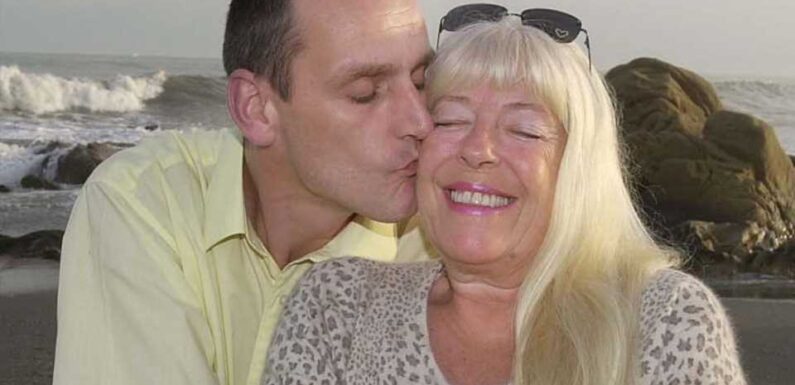 JULIE Goodyear is known and loved by Coronation Street fans, thanks to her role as no nonsense landlady Bet Lynch.
However, in June 2023 her husband Scott Brand revealed she had dementia.
Who is Julie Goodyear's husband Scott Brand?
Scott Brand is Julie Goodyear's fourth husband who she first met in 1996, and is 26 years her junior.
Unlike his famous wife, he is not in the spotlight, nor has a career in television.
Meanwhile, Julie first joined the Coronation Street in 1966 as iconic character Bet, returning in 1970 ahead of her lengthy  stint on the show.
While she quit the cobbles in 1995 – winning the NTA's Lifetime Achievement Award – she has made cameo appearances since, much to the delight of fans.
In 2002 Julie made a high-profile comeback but lasted just two weeks before quitting.
What has Scott Brand said about Julie Goodyear's illness?
On June 7, 2023 it was revealed that Julie had been diagnosed with dementia.
Scott said in a statement: "My darling wife and I have had to come to terms with this heart-breaking diagnosis. 
"Unfortunately, Julie has been suffering forgetfulness for some time and we have been seeking medical advice and assistance, but we now know that there is no hope of a reversal in the situation – and that her condition will get progressively, and perhaps speedily, worse.
Most read in Soaps
Corrie legend Julie Goodyear reveals she is suffering from dementia
Adam makes a decision about cheating wife Sarah in Coronation Street
EastEnders grooming horror for pregnant Lily Slater
Coronation Street killer Stephen Reid murders again as he drugs another victim
"We have taken the decision to publicly announce the diagnosis as Julie still loves visiting friends and eating out. 
"Inevitably she is recognised, and fans love to meet her – and she them – but she can get confused particularly if she is tired.
"I hope people will understand."
Do Julie Goodyear and Scott Brand have any children and when did they get married?
The couple have not any children together.
Julie, however, has a son called Gary, who was from her first marriage.
Julie and Scott married in 2007 after 11 years of dating.
Source: Read Full Article