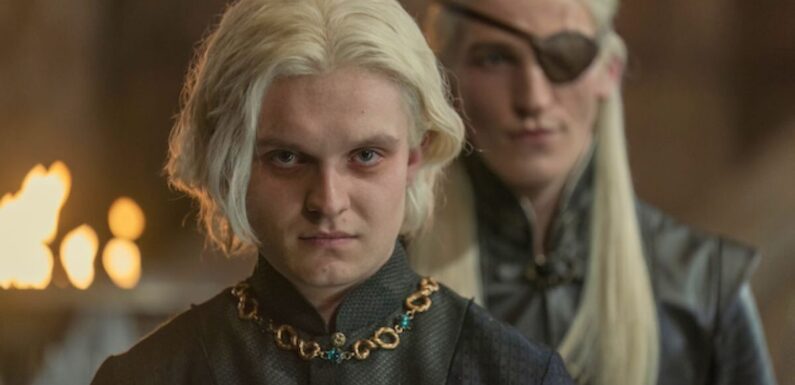 House of the Dragon: HBO teases thrilling season finale
As House of the Dragon will make its long-awaited return to HBO with season two in 2024, filming is currently underway.
With viewers eagerly anticipating a gruesome civil war, many were pleased to learn production had finally started last month at the Warner Bros Studios in Leavesden.
The Game of Thrones sequel is expected to depict the widely discussed Targaryen battle between the Greens and Blacks.
However, following Tuesday's major walk-out from the members of the Writers Guild of America, many productions are expected to be impacted.
As the WGA take industrial action for a "fair deal," Variety reports HBO's fantasy series would not be affected.
Unlike late-night talk shows, major cable shows such as House of the Dragon finalises its scripts' writing before the beginning of filming.
A source close to production told Variety the "scripts on the hit show have been done for some time, and that filming on the second season "won't be affected."
Although production is taking place in England, the UK Writers Guild has shared solidarity as its members will not work on US projects during the duration of the strikes.
In a statement via The Hollywood Reporter, WGA announced its negotiating committee "began this process intent on making a fair deal".
Don't miss…
Carol McGiffin forced to 'step away' from Loose Women[LATEST]
Emmerdale fans 'work out' Faye's link to Gus in DNA twist[REACTION]
Denise Welch passionately defends Meghan Markle in Loose Women row[WATCH]
"But the studios' responses have been wholly insufficient given the existential crisis writers are facing."
According to the publication: "The union alleged that studios and streamers would not agree to any guarantee of a number of weeks of employment for television writers in the talks.
"That they proposed creating a 'day rate' for comedy-variety writers (essentially proposed creating a day-player category for these writers)."
In April, showrunners sparked excitement for season two with the release of a first-look photo of the Iron Throne proudly displayed in the Great Hall of the Red Keep.
Although bosses have remained tight-lipped about the storyline, many fans have referred to George RR Martin's novel, Fire and Blood to gain major insight.
As well as the confirmation of four new cast members, showrunner Ryan Condal announced there would also be new mythical characters.
During a special screening, Ryan revealed: "You're going to meet five new dragons."
While he didn't elaborate on the identities or the riders of these dragons, the fire-breathing monsters will join eight other mighty dragons.
House of the Dragon is available to stream on HBO in the USA and on Now TV and Sky in the UK.
Source: Read Full Article