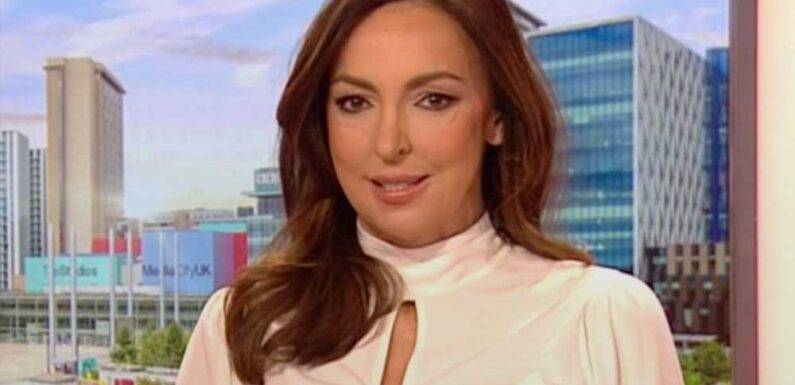 SALLY Nugent left BBC Breakfast fans in awe with a 'beautiful' outfit as they spotted a surprising link to Jon Kay.
Sally, 51, was back on the red sofa alongside Jon, 53, on today's show.
The journalist wore a pair of pale pink trousers and a cream high neck blouse which featured a key hole detail.
BBC Breakfast fans were quick to comment on her ensemble, with one writing: "Sweet SEXY Sally. GORGEOUS from head to toe! I hope that you are well."
Another added: "Looking lovely as always this morning."
However, another noticed how Sally had colour-coordinated with co-star Jon, who was wearing a pink floral tie with his suit.
Read More on BBC Breakfast
Beloved BBC Breakfast star missing from show in latest presenter shake-up
BBC Breakfast star gives update as they return to show after grisly knee injury
Referencing the film Mean Girls, they tweeted: "'On Wednesdays we wear pink' and not for the first time @BBCBreakfast @jonkay01 @sallynugent. Beautifully coordinated!"
Indeed, it isn't the first time the duo – who host the programme together Mondays to Wednesdays – have colour coordinated in pink.
Back in February, Sally wore a bright pink dress, which perfectly matched Jon's tie and pocket square.
Taking to Twitter, one wrote: "Looking very coordinated this morning in your pink @jonkay01 @sallynugent on @BBCBreakfast. Brightening this morning up."
Most read in News TV
Amazon reboots beloved BBC series that ran for 21 series before shock axe
Popular Channel 4 cooking show with celebrity host axed
Future of Freddie Flintoff's shows for BBC confirmed after shock accident
C4's raunchiest show to return for second series with eye-popping experiment
Another added: "Awesome co-ordination pretty in pink and
@sallynugent looks ok as well hahaha @jonkay01."
A third tweeted a gif from Mean Girls where one of the characters says: "On Wednesdays we wear pink" and wrote: "@jonkay01 @sallynugent got the memo this morning @BBCBreakfast."
Meanwhile a fourth joked: "Have Jon and Sally purposely co-ordinated their colours today, and are they going to a wedding afterwards?"
It soon transpired that the matching colour palette was by accident.
After BBC Breakfast had ended, Jon tweeted a picture of Morning Live presenters Sam Quek and Gethin Jones and wrote: "This is getting weird. Not only are @sallynugent and I both in pink this morning (with no planning) but so are @SamanthaQuek and @MetMattTaylor.
"Come on @GethincJones! Get with the programme!"
BBC Breakfast airs daily from 6am on BBC One.
Source: Read Full Article