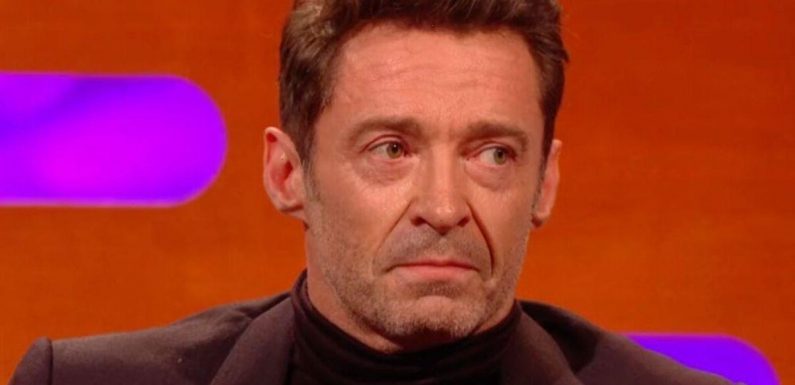 Hugh Jackman posts video tribute to Wolverine voice actor
We use your sign-up to provide content in ways you've consented to and to improve our understanding of you. This may include adverts from us and 3rd parties based on our understanding. You can unsubscribe at any time. More info
Graham Norton and guest Michael B. Jordan comforted Hugh Jackman as he spoke candidly about receiving the news his father had died when he was working on The Son. The actor explained he had to lean on those around him as he refused to stop filming and instead continued to work on the "intense" project.
Graham remarked: "You lost your own dad."
"Yeah my father passed away during filming," Hugh replied. "It was a very emotional time.
"I'm so grateful to first of all, my family, we were in a Covid bubble so thank goodness I had my family with me.
"The director Florian, and every single meter of the cast and crew because when you go through something like that
and you're doing a film that is that intense, you just can't."
The Hollywood actor paused as he broke down in tears before continuing: "Do it alone. You can't. You need to lean on people and I had people there.
"I did and so I am very grateful for them."
Actor Michael B. Jordan who was sitting next to Hugh, put his arm around the star as he offered comfort to him.
Graham went on to tell Hugh he should be "very proud" of the film, adding: "You are so good in it. It is such a powerful film."
Earlier in the interview, Hugh said of the film: "It is beautifully written, beautifully produced, and will, I think touch everyone.
"One beautiful line in the script is 'Love isn't always enough,' which is one of the most difficult things for a parent to hear.
"I realised it is okay to say to my own children, 'I don't know' and to be open and vulnerable.
"I used to think they wanted surety and strength from me, but I now share with them things I wouldn't have before."
Hugh added: "Hopefully I'm not boring dad doing it and that they appreciate it."
The actor was told of father's death while shooting The Son, which is a follow up to The Father.
Hugh decided to keep working rather than return home to grieve and said of his decision to the BBC: "My father actually never missed a day of work in his life.
"I did imagine what my father would say and he would say, 'Go to work.'"
Speaking about the film, The Son, Hugh said it is "spiritually and thematically connected" to The Father.
"It is about a family facing a crisis and I hope it's a film that will start conversations around mental health.'
The Graham Norton Show is available to catch up on BBC iPlayer.
Source: Read Full Article