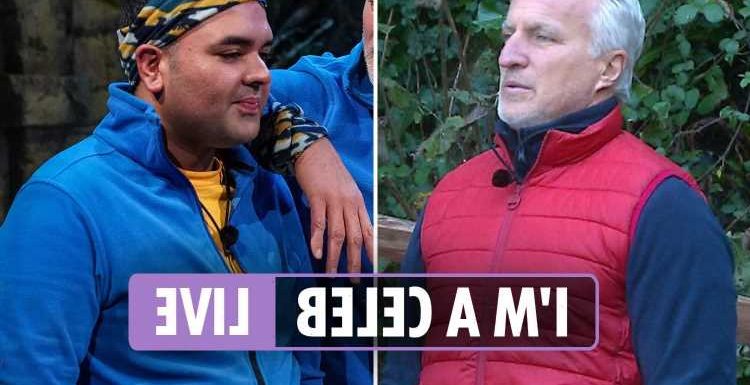 I'M A Celebrity's Frankie Bridge is forced to drink a glass containing deer testicles in a stomach-churning Bushtucker Trial tonight.
The Saturdays singer gags as she chugs the gruesome drink in a teaser clip from Thursday's episode of the ITV show.
The pair will be seen taking part in tonight's Castle Scary-oke and will be tasked with having to down some revolting drinks at the castle camp's karaoke bar.
In a glimpse at the episode, presenter Declan Donelly tells Frankie: "Frankie, it's over to you. Blended deer testicle, just reminding you of that."
The mum-of-three pauses halfway through to compose herself – but looks ready to puke.
Read our I'm A Celeb live blog below for the latest news and gossip…
Shan Ally

But Naughty Boy still had some fight left in him and took on blended fermented soya beans.

Within a matter of seconds, Naughty drank the entire contents!

Shan Ally

Frankie has reached her limit and was forced to pass on her final drink.

Shan Ally

The music producer downed the glass of fermented egg – but his face said it all as he grimaced at Ant and Dec.
Shan Ally

Naughty Boy was looking worse for wear as he faced his biggest task yet – fermented duck egg.

Shan Ally

Next up, Frankie was tasked with drinking sheep brains and within a matter of second she downed the entire contents.

Shan Ally

The revolting games continued – with Naughty downing a glass of fermented plums like a pro!

Shan Ally

Frankie returns to the stage to sing Billish "Eye-lish" hit track Bad Guy.

Meanwhile, Naughty Boy quickly downed a glass of fish eyes.

The pair swapped positions again – with Frankie squirming over a cup of pigs anus.

The popstar managed to battle on and downed the rest of "bits".

Shan Ally

Frankie gags AGAIN as she drinks blended frog legs and joked that she had "very bad manners" after she came close to being sick.

Shan Ally

Frankie is treated with blended deers testicle, but the singer is left gagging.

The popstar continued to down the drink and managed to finish off the revolting concoction.

Meanwhile, Naughty is given some blended cows tongue as Frankie took to the stage to sing Dua Lipa's track Cold Heart.

Naughty managed to down the tongue mixture with ease!
Shan Ally

Naughty Boy and Frankie to the stage to cover the biggest songs in pop – with a few creepy treats along the way!

Frankie kicks off with Niki Minaj's hit Bang Bang, while being covered in slime and sausages.

Naughty gives it his best shot and downs his first drink- leaving him joking that it smells like elderflower.

Shan Ally

OOH LA LA!

Frankie and Naughty prepare to take on tonight's Castle Scary-oke and will be tasked with having to down some revolting drinks at the castle camp's karaoke bar.

The Saturdays singer can already be heard gagging at the gruesome drinks.

Look away if you're squeamish!

Shan Ally

Naughty Boy's SHOCK confession

The music producer said that he only had £10 in his bank account when he appeared on Channel 4 gameshow  Deal or No Deal.

He quit his job working in pizza chain Dominos and met TV legend Noel Edmonds.

At the age of 23, Naughty Boy revealed that he won £44,000 in a moment that changed his life.

He gave £15,000 to his parents and used the rest of the prize monet to build a shed studio.

Shortly after he met superstar Emeli Sandé at a showcase in London – he went up to her and asked her to jump in his car to "play some beats".

Naughty added: "Deal or No Deal gave me the confidence to speak to people and to be myself, you don't realise what it will do for you."

Shan Ally

Crush on you!

Danny Miller told his fellow campmates that he's in awe of David Ginola – admitting it's been a "dream" sharing a bed with him.

Frankie Bridge joked that she had a crush on David Beckham and Michael Owen when she was younger – despite hubby Wayne Bridge playing around the same time.

Olympian Matty Lee revealed he loves sharing a bed with gold medallist Tom Daly, despite him occasionally snoring.

Shan Ally

The mystery behind Snoochie Shy's earrings

Ant and Dec told fans that jewellery was allowed in camp after fans pointed out Snoochie's earrings.

They revealed that jewellery with no sentimental value and non expensive jewellery were allowed in camp.

Shan Ally

New roles shake up the camp

Chore were assigned and only the assigned campamate could carry out the chores

Camp chefs – Kadeena and Naughty Boy

Camp maintenance – Simon, Adam and Matty

Camp cleaners – Arnele and Snoochie Shy

Washing up – Frankie and Louise

David and Danny joked that the trials every night would be allocated to Naughty Boy – leaving him with a face of thunder. But Naughty Boy was the last one to get the joke.
Shan Ally

Danny's dreams come true!

Emmerdale's Danny Miller couldn't believe his luck yesterday when he found out that he was sharing a bed next to footie legend David Ginola.

And his excitement continued this morning, saying it was a 'dream' come true.

Shan Ally

Simon breaking the rules!

Corrie legend Simon Gregson has shocked fans by breaking the rules and taking in contraband wich could be used to spice up the fod.

What a cheeky rule breaker!

Shan Ally

Frankie leave fans queasy!

A quick preview clip of Frankie Bridge gagging on tonight's show has already left fans feeling "queasy".

One wrote: "Seeing Frankie throw up makes me sick. I can't look."

"I feel queasy looking at Frankie gag," another shared.

Shan Ally

I'm a Celeb….get on TV now!

Tune in at 9pm for tonight's instalment of I'm a Celeb and catch up on all antics from the campmates.

Shan Ally

Love Island's Scott Thomas wants to see pal Danny Miller 'squirm'

Love Island's Scott Thomas is desperate to see his mate Danny Miller "cry" and "squirm" in trials.

The reality star has urged fans to vote for the Emmerdale actor for the upcoming Bushtucker trials.

Speaking on Instagram, he said: "I've been told he's been made a deputy, we need to start getting him on some of the challenges, let's start voting.

"We need to see him squirm, we need to see him cry, the guy is scared of everything.

"Sack Naughty Boy, let's get Danny on the challenges."

Shan Ally




Simon Gregson: 'I was beaten up & spat on after joining Corrie'

I'M A Celebrity's Simon Gregson has revealed the shocking abuse he received in the street after joining the cast of Coronation Street.

Opening up to his campmates, the actor said he was physically attacked, spat at and had abuse hollered at him by viewers.

Simon said: "It was difficult for a while to adjust. It's like, 'This isn't what I planned for myself and I do not like it'."

Shocked, fellow I'm A Celeb star Kadeena Cox asked if he really didn't like it.

"I hated it!" he said. "The fame side of it, I hated. It was really negative feedback, getting beaten up, spat at, property being damaged."

As his campmates gasped, Simon added: "It was shocking."

Simon was then shown talking in the Telegraph, where he said: "I was never a fan of the limelight, but it turned out nice in the end.

"I'm here in a castle eating rice and beans!"

Simon landed the part of Steve McDonald in 1989 and he has played the hapless character ever since.
Shan Ally




I'm A Celeb star Adam Woodyatt's rarely seen daughter poses with her American fiancé

I'M A Celeb star Adam Woodyatt's rarely seen daughter Jessica beamed as she cosied up to her fiance DJ by a waterfall.

Earlier this year Adam revealed how Jessica, 28, would be tying the knot in November next year.

The eldest of his two children keeps her life private online, but she looked very happy in the picturesque snap by a waterfall.

An online wedding invitation for the couple says they will wed in their favourite New York coffee shop, and there will be beer and fizz for guests before the ceremony.

Shan Ally




Louise Minchin & Dan Walker supportive of each other

It's clear they support each other in their respective careers, with Louise encouraging her social media followers to vote for Dan in Strictly Come Dancing.

But, as is protocol for I'm a Celeb, Louise couldn't tell Dan she was moving into the castle this year. She said: "I didn't tell Dan Walker I was doing I'm A Celebrity before coming to Wales but I don't think he will be surprised.

"He knows me well and I think he will be both excited and nervous for me. I have been voting for him on Strictly so fingers crossed he will vote for me a lot."

Dan reacted to the news on social media, promising his "phone bill is going to be enormous".

Louise even has hilarious nicknames for the two of them: Little and Large – but Dan is Little!

Shan Ally




'Being a mother and a grandmother means the world to Arlene' says daughter

Arlene Phillips daughter Alana has shared a series of sweet throwback snaps of her mum Arlene.

The choreographer looked sensational in the timeless photos and gave fans a glimpse of Arlene's family life.

They captioned the post: "Being a mother and now grandmother means the world to Arlene.

"When Alana Phillips arrived Arlene was in the midst of choreographing a film and was back on set with beautiful newborn in her arms a week later…who is now an amazing mother to Arlene's two granddaughters."

Shan Ally




Arlene Phillips dreaded taking kids to school because she was 'older mum'

Dame Arlene Phillips has said she dreaded taking her four-year-old daughter to school because she was often confused with being her grandmother.

The I'm A Celebrity… Get Me Out Of Here! campmates were reunited after extreme weather conditions during Storm Arwen caused production difficulties at Gwrych Castle in North Wales.

Discussing motherhood while sat around a campfire, the former Strictly Come Dancing judge said: "My daughter Abi, I remember dreading, absolutely dreading taking her to school age four and having to explain, 'No, I'm her mother not her grandmother'. I was 47 when I had her.

"When I went to mother and baby class in Primrose Hill my obstetrician came up and whispered – I can never forget this – he kneeled down and said: 'Have no fear it will get better because you really should be a grandmother, so you're going to have to find ways to understand how to be a mother again.'

"Why it hurt so much was because having a baby naturally at 47 and thinking it was the menopause for four, five months… I can't be pregnant, why am I so sick?"
Source: Read Full Article