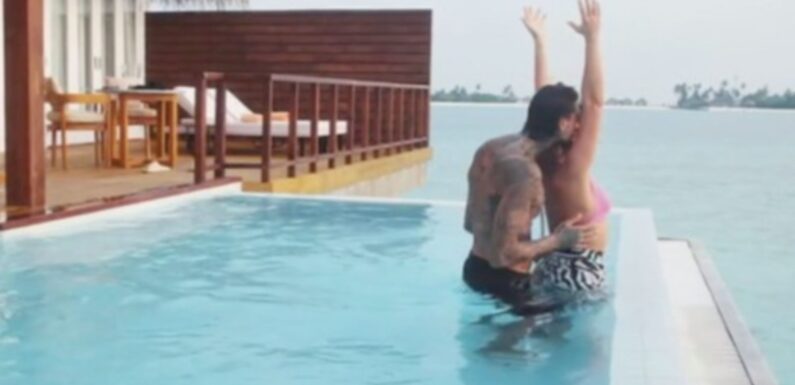 MARRIED At First Sight's Brad and Shona totally lucked out with their honeymoon – bagging a holiday to the Maldives worth thousands.
The newlyweds jetted off to the Sun Siyam Iru Veli Maldives on the island of Aluvifushi shortly after meeting for the first time in Monday's show and tying the knot.
And the luxury accommodation where they were sent to get to know each other costs an eye-watering £5,284-a-week for a stay.
After arriving on the island, Brad and Shona were chauffeured to their gorgeous over-water villa in a golf buggy.
"Are you having me on?!" exclaimed Brad.
Equally as dazzled by where they were staying, 31-year-old Shona also gasped: "What the hell?!"
READ MORE ON MAFS UK
REALITY SWAP
MAFS star signs up for raunchy dating show with celeb who's bedded 250 people
AGE RIDDLE
MAFS UK fans can't believe Peggy's 'real age' amid row with husband George
Brad, 27, replied: "Oh, babe. This is an absolute joke."
Every five-star villa at the resort has a front row lagoon view and comes with its own private, freshwater pool.
The Sun Siyam Iru Veli Maldives' website boasts: "All you have to do is check in, chill out and let our neighbouring dolphins provide your entertainment as they swim past each day."
When it comes to food, the resort's six bars and restaurants have a daily changing menu featuring "the best seafood you'll ever taste".
Most read in Reality
MISS-STEPS
Strictly's off-air scandals – star's shock arrest before final to doping claims
GOGGLESHOCK
Gogglebox legend devastated by sudden death of her sister
bobby dazzler
Strictly stars Bobby and Dianne cuddle up as they take a break from training
CO-STAR CLASH
MAFS star Georges makes brutal dig at Porscha as he calls rival'pathetic'
During their stay, Brad and Shona were also treated to a gorgeous floating breakfast in their private pool.
Their round tray featured delicious fresh fruit, pastries and juices.
Shona and Brad also took advantage of a romantic couples' massage underneath the night sky.
Guests can also enjoy diving and snorkelling in the lagoon, along with kayaking, stand-up paddleboarding and jet skis.
Brad and Shona were shown meeting for the first time at their wedding during last Monday's Married At First Sight UK.
They immediately hit it off, with Shona even declaring at their wedding reception that she was "in love" with Brad.
The couple have a shared love of yoga, crystals and spirituality and even Brad almost told his wife he "loves" her during their honeymoon.
As he sipped on champagne during a romantic boat trip, he said: "I cannot think of anybody I'd rather spend this moment with right now.
"I really, really L…. like you!
He added: "I could trust you with my heart and that's a big thing for me. Trust comes before love.
"I feel very very deeply and strongly for you. There's no one in the world like you, Shona."
READ MORE SUN STORIES
TO YOUR CREDIT
Major change for thousands on benefits within days due to shake-up
WALTZING OFF
Strictly crisis as Adam Thomas forced to miss training ahead of first vote
Shona told him she is expecting them to have a baby or be trying for one in five years' time.
She also revealed to the cameras that their "bodies had connected", hinting that they'd had sex for the first time.

Source: Read Full Article