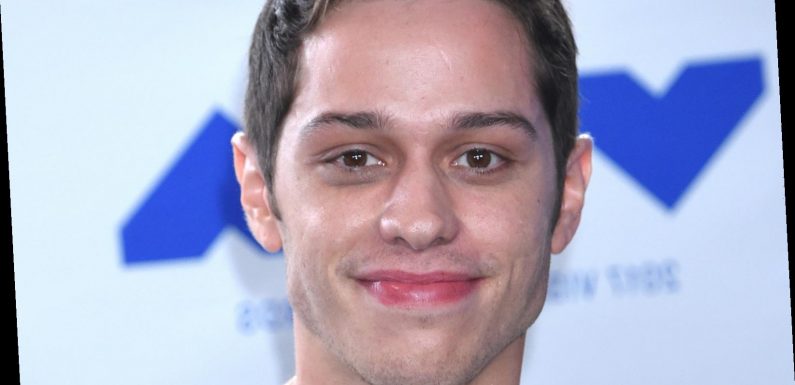 Pete Davidson has only been on the Hollywood scene for a few years, but he's already garnered his fair share of headlines and attention. The comedian, who is best known for his work on Saturday Night Live, has also become very familiar with speculation about his love life, which has historically played out in very public ways.
Arguably no one can forget Davidson's relationship with Ariana Grande, a very public spectacle that people simultaneously loved to hate and couldn't get enough of. According to Insider, the duo started dating in May 2018, before jumping into an engagement by June of the same year. After a whirlwind romance, the couple did call off their engagement that same year, though it was only the beginning of Davidson's string of public relationships. 
Following his split with Grande, Davidson rebounded with Kate Beckinsale, followed by even quicker flings with Margaret Qualley and Kaia Gerber (via Us Weekly). Though his relationships have been somewhat public, Davidson has also learned a thing or two about keeping some details private after bearing all with Grande, so he's been relatively low-key about his romances in past years.
Naturally, when news broke that Davidson was married, fans were in a tizzy. As it turns out, the out-of-nowhere report isn't quite what it seems — keep reading to get the truth about Davidson's supposed marriage. 
Pete Davidson's lawyer sets the record straight
Despite news stories claiming that Pete Davidson is a married man, the comedian's team is setting the record straight and confirming that he is, in fact, not married. TMZ first confirmed the news on March 16, 2021, firmly stating that "Pete Davidson is NOT married." The outlet went on to explain that a production company called Bodega Cats (claiming to be associated with Davidson) sent out a press release, saying that the SNL star married a childhood friend. "Pete and Michelle were childhood friends prior to starting Bodega Cats Presents and are married," the release said, confusing fans everywhere.
TMZ clarified that Davidson is not married, and he is not associated with Bodega Cats in any way. Davidson's lawyer also stepped in to set the record straight, telling Page Six that the alleged news is "completely false." "Not a word of it is true," the comedian's lawyer clarified, adding that "Mr. Davidson has no idea who this person is" and that they "are investigating and considering all legal and equitable remedies." 
And there you have it! Not only is Davidson unmarried, but he doesn't know who "Michelle" is, so fans everywhere can let out a sigh of relief.
Source: Read Full Article