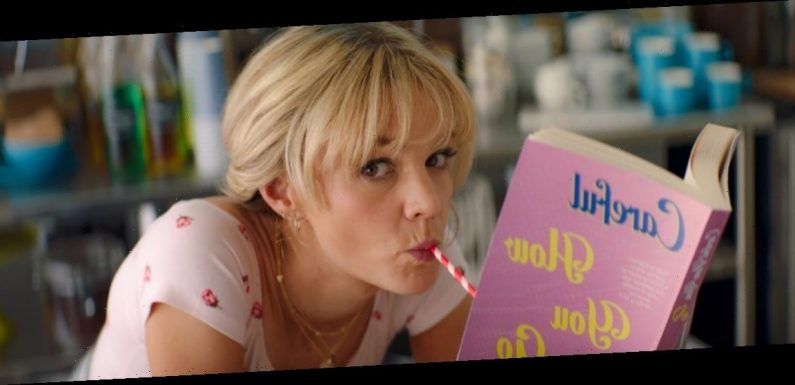 Promising Young Woman earned five Oscar nominations, including one for Carey Mulligan as lead actress. Mulligan stars as Cassie, a woman who plots revenge against would-be rapists by making herself the bait. It is a harrowing role for Mulligan which spans emotions from playful and seductive to deadly serious. 
Promising Young Woman is now available on Blu-ray, DVD and VOD. The Blu-ray and DVD editions include bonus features where Mulligan, writer/director Emerald Fennell and more filmmakers discuss what went into this Oscar-nominated film. 
'Promising Young Woman' met Carey Mulligan's criteria for playing a role
In the bonus features, Mulligan described her process choosing Promising Young Woman. Mulligan felt she had to play Cassie. 
"If I can imagine someone else playing the part and be all right with it, I tend not to do it," Mulligan said. "The idea of anybody else playing Cassie made me really anxious and furious."
Fortunately, Fennell wanted her to star in Promising Young Woman from the beginning, too.
"The thing about Carey is she's so talented in a kind of bone marrow deep way," Fennell said. "She's always the person I really wanted for Cassie, her ability to change her face and body almost completely was really important for the character."
What is the plot of 'Promising Young Woman'?
In Promising Young Woman, Cassie pretends to get blackout drunk in bars so that random guys will pick her up. Cassie is also out for revenge on those involved with the rape of her college friend. 
"I wanted Cassie to feel very inviting," Fennell said. "I wanted her to be a bit of a fly trap. The whole point of this movie is it's supposed to feel like a candy shop. Or, going on a date with someone that you just hit it off with and then you get back to their apartment and you realize the door is locked and it's too late."
For the nightly exercise she executes in Promising Young Woman, Cassie has a routine down. She looks just enticing enough but not blatant enough to give herself away.
"Cassie has thought meticulously about what she's wearing, how her hair is and what her makeup looks like and how her nails are," Mulligan said. "All of that thought has gone in as armor, as costume to protect herself."
Fennell added, "I wanted her to make herself deliberately appealing to people. She knows very, very well like a lot of women do how to project normality, charm, and sensuality when she needs to."
Dressing Carey Mulligan
Cassie makes her own costumes, but for Promising Young Woman, Mulligan had help from costume designer Nancy Steiner.
"Emerald always had this vision that she was this beautiful blonde girl wearing sweet pastels and floral things and beautiful dresses that really just didn't match with the character and the behavior of the character," Steiner said. "Emerald wanted it to be stylish but also realistic and not heavy-handed."
Fennell called Steiner "a genius." She also wanted Cassie to portray as many varied personas in Promising Young Woman as possible. 
"I didn't want anyone to watch this movie and think, 'Oh, I would never do that because I wouldn't go to a club like that. Or, I wouldn't pick up a girl who dresses like that,'" Fennell said. "One night she could be a hipster, one night she could be a woman who's just come from the office and had one too many. One night she's in a classic Bodycon Kardashian dress."
The transformations in Promising Young Woman appealed to Mulligan so much she felt she needed to play Cassie.
"It was so much fun playing with hair and makeup and costumes and figuring out who these personas were," Mulligan said. "At night, she uses that same skill to change her appearance and take on personas. In those personas, she will make herself vulnerable to men."
The differences between Cassie's daytime and nighttime personas were important to Fennell.
"I think that was really so important to me was showing the whole person and the different shades of light and dark can exist together," Fennell said.
Source: Read Full Article