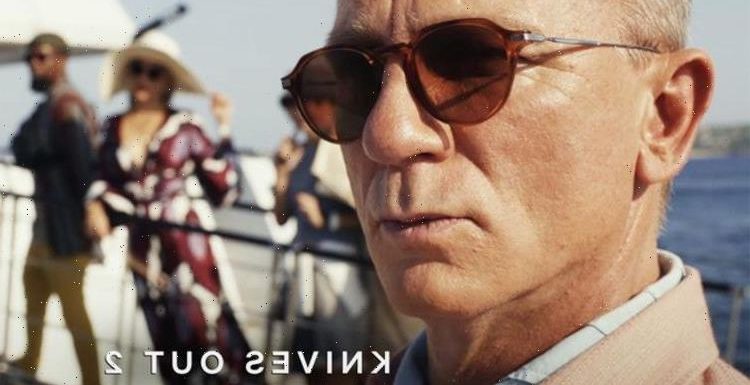 Knives Out: Thrilling trailer for murder mystery film
We use your sign-up to provide content in ways you've consented to and to improve our understanding of you. This may include adverts from us and 3rd parties based on our understanding. You can unsubscribe at any time. More info
Daniel Craig may be done with James Bond, but his next franchise is well and truly already established. Having portrayed Detective Benoit Blanc in Rian Johnson's Knives Out, the No Time To Die star returns for another murder mystery as the Southern gentlemen. Untitled Knives Out 2 was shot on the Greek island of Spetses last summer and sees the former 007 opposite an amazing cast just like last time.
The first look was shared today in the Netflix 2022 Movie Preview trailer, with a shot of the Knives Out 2 murder suspects climbing aboard a boat – as Craig's Blanc comes into shot in sunglasses and a linen suit. You can watch the footage at around 2:33 below.
Joining the 53-year-old in the cast are Dave Bautista, Edward Norton, Janelle Monáe, Kathryn Hahn, Leslie Odom Jr, Kate Hudson, Madelyn Cline, Jessica Henwick and Ethan Hawke.
If anything, it looks a bit like Kenneth Branagh's long-delayed Agatha Christie Poirot sequel in Death on the Nile, which is released in cinemas next week.
Knives Out 2's title is yet to be announced, as is when the movie will hit Netflix. But one thing's seems pretty certain, this is unlikely to be Blanc's last case.
DON'T MISS
Bond star Pierce Brosnan's 7 year delay movie is huge flop at cinemas [PIERCE BROSNAN]
Daniel Craig didn't realise his head was bleeding during interview [DANIEL CRAIG]
James Bond: Blofeld star Telly Savalas' kindness to George Lazenby [GEORGE LAZENBY]
https://www.youtube.com/embed/ZTI6T5M8Fj0
Netflix outbid Amazon and Apple to obtain the rights to two Knives Out sequels in a deal of around $468 million.
A losing bidder told Variety: "The math doesn't work. There's no way to explain it. The world has gone mad. It's a mind-boggling deal."
Craig is reportedly being paid north of $100 million for both Knives Out 2 and 3. It's not clear when the third film will be shot, but we wouldn't be surprised if the former Bond star plays Blanc in multiple films.
Knives Out 2 will stream on Netflix at some point in late 2022.
Source: Read Full Article