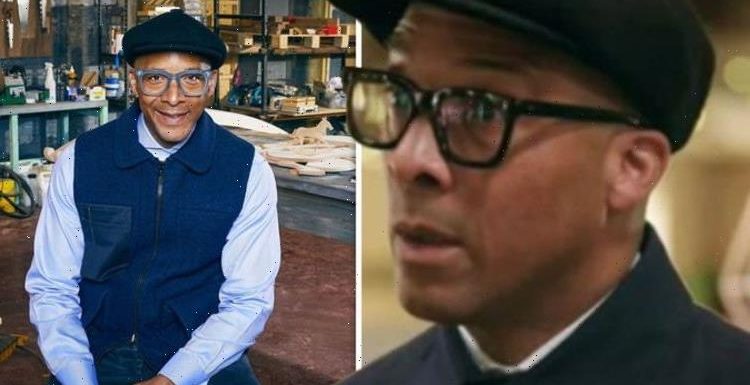 The Repair Shop: Woman gets emotional over sewing machine
We use your sign-up to provide content in ways you've consented to and to improve our understanding of you. This may include adverts from us and 3rd parties based on our understanding. You can unsubscribe at any time. More info
Jay Blades returns to BBC screens on Wednesday, August 18 with his brand new series Jay's Yorkshire Workshop. In the new series, The Repair Shop host follows a team of experts who make bespoke pieces of furniture for nominated local heroes. Speaking about the BBC Two show, Jay shared his shock at one of the guest's touching stories.
In each of the six episodes, Jay meets the special person nominated for the piece of furniture.
Discussing the series, he said: "With this show, we are celebrating people who are not visible.
"So these are people in your community that are doing some outstanding community work, that are looking out for the most vulnerable in our society and they do it sometimes without any pay, or they just do it off their own back."
The first episode of Jay's Yorkshire Workshop follows the story of Jack who has been nominated by Connor.
Read more: The Repair Shop Shop guest breaks down over repairs to father's gift
Connor reveals he had a life-threatening liver condition and was contacted by Jack when he reached out on social media asking if anyone would be kind enough to donate half of their liver.
The pair were strangers but became friends after the operation.
In a touching turn-of-events, Jack and Connor later became a couple and are now moving in together.
Jay remarked: "When I heard it, first of all, I was like, 'This isn't real!"
"It's a beautiful fairy tale, and even Disney couldn't write this story," he shared.
"Sometimes in life, you wish you could find love like that, and there you are right in front of it.
"That's a love story beyond all love stories, as far as I'm concerned – this person saved your life and now you're together."
The bespoke furniture pieces are designed by experts Ciaran, Isabelle and Saf.
DON'T MISS
Sara Davies suffers Strictly Come Dancing setback after signing up [ODDS]
EastEnders heartbreak as two families torn apart by new arrival? [SPOILER]
A Place in the Sun: Jean Johansson requests guest leave 'Can you go?' [VIDEO]
The team are assisted by six woodworkers who create the stunning items in the Yorkshire Workshop.
Jay follows the trainees as they perfect their craft and discovers why they wanted to be a part of the series.
The Repair Shop presenter revealed he was thrilled to host a show focussing on the good people are capable of.
He told PA: "Often, on the news, you have a lot of depressing stories; there's a lot of news that you'd rather not hear."
What is happening where you live? Find out by adding your postcode or visit InYourArea
"But then when you are involved in a show such as this… And this was only one area, this was just in Yorkshire. Imagine the rest of the country," he added.
The presenter explained he hopes this series may encourage others to be part of community-related projects.
He urges viewers to give their time if possible to help others in their community and support local causes.
Jay's Yorkshire Workshop starts on BBC Two on Wednesday, August 18.
Source: Read Full Article